Posted by
Pehon
Dec 15, 2021 10:00:00 AM
Operating a legal practice is about far more than just helping people or advancing society. As a lawyer, while you are charged with upholding the law in the courtroom, you must also comply with various rules at your workplace.
For example, regulations like the UK GDPR to national rules govern marketing and advertising, and you must be extremely careful not to step afoul of those rules. At the same time, you'll need to conduct all of the day-to-day affairs associated with running a regular business, such as apportionment accounting, calendaring appointments, and tracking the time you spend on each case so that you can provide accurate, fair bills.
If this sounds like a lot, you're not mistaken. Fortunately, law practice management software helps you handle these myriad responsibilities, leaving you with more time and mental capacity to focus on the core services you provide. Here's why law practice management is so prevalent in modern practices and how to choose one that improves the way you work.
What Is Law Practice Management Software?
Law practice management software improves your ability to handle vital duties by centralising your workflows around a multifunctional system. It incorporates several capabilities that support the typical tasks you'll undertake in your line of work.
Common Benefits and Features of Law Practice Management Software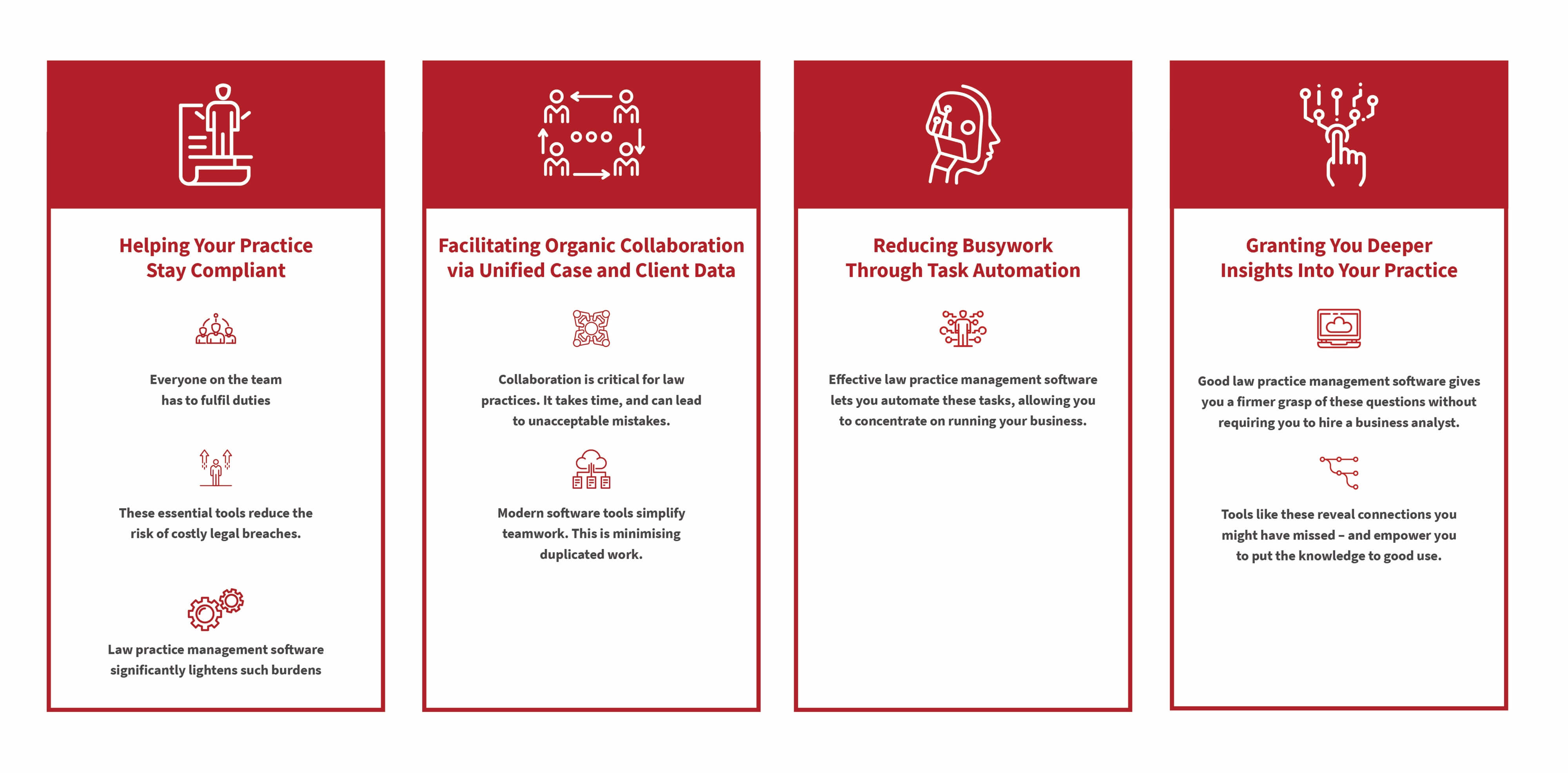 Law practice management applications vary, but most concentrate on a few core aspects designed to optimise repetitive work and heighten profitability:
Helping Your Practice Stay Compliant
Modern law practices in the UK must have a compliance officer for legal practice, or COLP, on their staff. Nonetheless, these individuals aren't the only persons responsible for legal compliance. Everyone on the team has to fulfil duties such as disclosing information and maintaining regulatory records.
Law practice management software significantly lightens such burdens. For instance, your chosen application might automatically save and organise compliance documentation in the legally mandated format. It can also notify your partners when they take actions that require additional compliance steps. By keeping stakeholders apprised of such requirements, these essential tools reduce the risk of costly legal breaches.
Facilitating Organic Collaboration via Unified Case and Client Data
Collaboration is critical for law practices. Lawyers often have to work closely with their staff to research case precedents, schedule appointments, and interact with clients. These processes take time, and poorly managing them can lead to unacceptable mistakes.
Modern software tools simplify teamwork. They centralise how you store data in a cloud– even if it comes from distinct sources, such as emails and other forms of communication – making it infinitely easier to keep everyone on the same page. They also unify views of client information to facilitate the smoother propagation of directives in a top-down fashion. For example, when one partner updates a case file, everyone else working on that job sees it instantly, minimising duplicated work.
Reducing Busywork Through Task Automation
Many law practices are plagued by a seemingly endless mountain of repetitive tasks. While duties like recording client information or submitting documents to a court may not seem like much individually, they represent a cumulative burden that can heighten the risk of staff fatigue.
Effective law practice management software lets you automate these tasks, allowing you to concentrate on running your business with the best corporate tools. For instance, your chosen application could routinely check court system databases for updates so that you'll always be using the most current documents. Or you might tell it to automatically send clients supplemental information, such as forms they need to fill out and digitally sign after they seek your assistance with life-changing affairs, such as managing estates or filing personal injury lawsuits.
Granting You Deeper Insights Into Your Practice
Predicting which business strategies will yield the best return on investment is not always easy. Are your practice hours optimally scheduled to make you accessible to your typical clientele? Are you wasting time doing work that isn't worth the fee?
Good law practice management software gives you a firmer grasp of these questions without requiring you to hire a business analyst. By tracking data points like your time spent with clients, expenditures, and payments received, tools like these reveal connections you might have missed – and empower you to put the knowledge to good use.
Choosing an Optimal Law Practice Management Software

There are hundreds of general business management software tools, and law-specific variants are just as prolific. How can you select the best one?
One of the most crucial factors to consider is this. Your chosen software must adapt to and support your operating model, not force you to adapt to it painfully.
Tessaract is a law practice management software geared towards the legal field and designed to be highly customisable. Unlike most generic alternatives, Tessaract was made to support your industry and created in tandem with real-world feedback from practising legal experts. Our team makes it easy to adjust the software with custom workflows, branded invoices, integrations, client-facing portals, and bespoke reports that highlight the data you deem most important.
Tessaract also places much emphasis on data security. We're ISO 27001 certified, showing that you can be assured we take our obligations very seriously.
Whether you're a growing law firm or an established law practice that wants to modernise, choose the right law practice management with Tessaract, giving you the leeway to do more with your data. We're proud to support your noble mission, from training your staff on using the software to helping you grow your business. Also, learn more about how Tessaract helped That.Legal achieve operational efficiency and agile growth in our case study.
Request a Tessaract demo today, and free yourself to focus on your core speciality.