Embracing technology and incorporating automation into the work environment has become a hot topic recently. Many companies have turned to workflow automation solutions to transform their workplace into more streamlined, efficient, and accelerated growth.
Today's workflow automation solutions are easily accessible and customisable to a company's standard operating procedures. Automating repetitive tasks in the workplace relieves the frustration of having to spend time on redundant work and allows for more energy to be channelled into billable work. This way, your team can accomplish so much more with the same amount of resources and time spent.
What is workflow automation?
The central concept of workflow automation is to turn manual grunt work into automated processes. It starts with an action that triggers a specific stream of other activities to run themselves to be completed in the background. The primary goal of workflow automation is to delegate repetitive and tedious tasks to shift their attention to more valuable and impactful tasks such as problem-solving and decision-making and boost productivity and accuracy. Workflow automation can be applied to all types of processes.
Examples of tasks that can be replaced by automation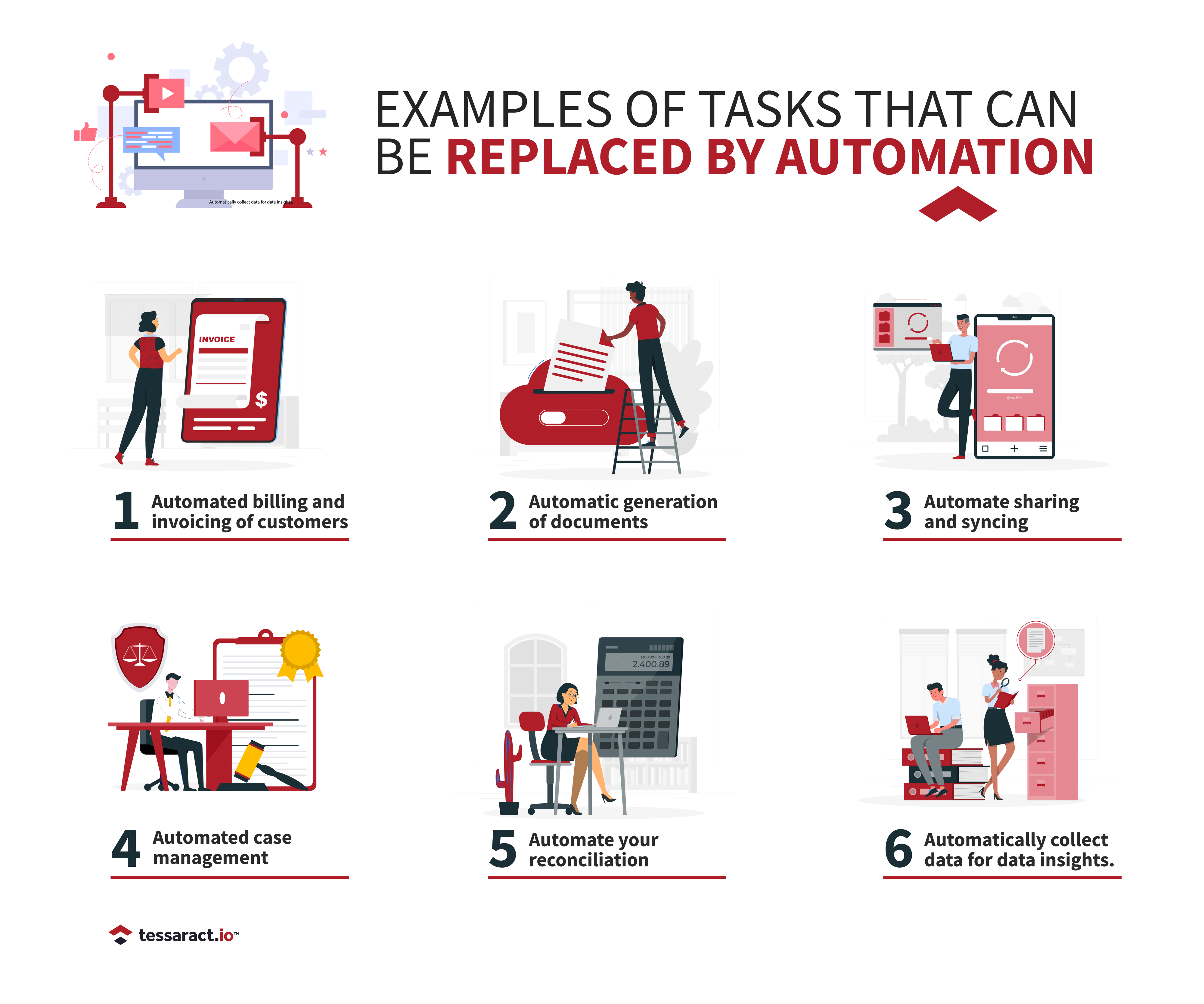 1. Automated billing and invoicing of customers
Burdens imposed on a company's finance team can be lightened by fully automating invoices. Although team members would be required to verify the invoice manually, that could be generated by different groups in the company and can also be used to send invoices to customers or vendors when needed.
Automated payment reminders and bill adjustment features ensure timely payment collection. Quickly and accurately tally your billable hours. You can get data from timesheets to develop statements or other documents with one click. Automated billing systems are an easy-to-use solution to time tracking that allows you to seamlessly send bill requests or invoices for time spent on the case or project.
2. Automatic generation of documents
The main idea behind the automation of document generation is the need to eliminate inconsistencies. In addition to that, document automation systems also help you save that you would otherwise spend on repetitive tasks such as filing, printing, scanning, distributing, sorting, and storing documents.
For instance, if a particular document is constantly produced, it would be logical to automate that production. All it takes is a single click to generate hundreds of documents using a document template. It also pulls data from your database and prepares the document within seconds.
This will help you save time that you would otherwise spend on manually doing it and ensure that you follow a single process.
Another advantage of document automation is that it enables you to leverage accurate data to produce authentic documents, with benefits like digital signing. This allows industries to create documents that suit internal and external regulations.
3. Automate sharing and syncing
Sharing office memos, tasks, and documents with every team member individually is highly time-consuming. That's why automatically sharing and syncing in a single cloud are necessary for workflow. It helps with more efficient collaboration. No matter where you are in the world, automatically sync every email correspondence and file them automatically into a specific case so staff can collaborate in real-time and share information seamlessly and securely, helping cross-departmental stakeholders deliver better results in less time with fewer resources.
4. Automated case management
Every company has a series of tasks that employees must handle daily. There is a hierarchy of how such jobs are run in every work environment. Workflow automation software does not inhibit this process; instead, it helps manage tasks streamlined.
Case Management is beneficial for businesses and organisations that handle many issues regularly. Institutions like law firms have to keep track of their activities, cases, and patients.
Benefits:
Centralised data management allows for remote access

Real-time updates and quick access to information

Efficient resolution of cases through effective collaboration

Increased transparency and clear audit trails

Improved and personalised customer care
5. Automate your reconciliation
Reconciling your revenue with your expenses requires time and concentration. One error can set you back a good couple of hours. At the end of each month, you can automatically reconcile your transactions, expenses, and payments against the bank's record simply by uploading the bank statement. You can also:
Seamlessly finish the accountant's monthly closing procedure without requiring to use numerous programs

With ease, you can automatically harmonise your transactions, expenses, and payments against your bank reports.

Automatic reconciliation allows you to manage various bank accounts & currencies with ease.
6. Automatically collect data for data insights.
Instead of manually keying in the data, automatically collect data and form it into comprehensive, concise reports. This saves time effort and relieves the frustration of doing repetitive tasks. You can as well make conscious decisions with real-time data & insights. What else do you stand to benefit?
An in-depth look into your records company with the help of data analytics

Detailed information about all facets of the company, including human resources, finance, and accounting operations

A dashboard can be customised to help you make timely decisions for your business.

Customising your reports and exporting them into CSV or Excel is relatively easy.

Choose the dataset you need with our Analysis Pivot Tables, then select from various standard reports for actional reports.

Gain access to Powerful, customisable reports ready for you to examine anything.

All reports can be printed and can be shared with CSV or Excel.
Workflow automation with Tessaract
With Tessaract, you can do these and more, all customised to your company's unique standard operational procedures. In addition to all the six aforementioned standard workflow automation, Tessaract's workflow management solution is built to make:
Client onboarding seamless and fast - Onboard clients easily simply by scanning their NRIC, BizFile, or through our ACRA Integration, and watch Tessaract automatically complete your client's information fields.
Integrations with KYC tools for a more seamless workflow process - Tessaract can automate your existing KYC processes with quick form-filling, risk alerts, and more. Our advanced global search also allows all files and documents in the system to be searched for a 1-second trustworthy conflict check. AML search results are automatically filled into the case file for that client/contact.
Document Filing and Naming Automation - Tessaract can automatically name your cases and folders sequentially according to a pre-set format. Folder names will be consistent with the case references, remain neat, and are easily identifiable.
Automated notifications - Tessaract can instantly inform your team when a new task has been assigned to them or when a deadline is approaching. Client emails can also be set up to send templated emails or SMSes to the client to keep them updated on the progress of their case.
Automation helps reduce the time spent on redundant tasks like these and more so that you can use the time instead to do billable work. Tessaract makes automation accessible to every company that wants to accelerate its growth and is customisable to its individual needs.