Do you run a large organisation and are responsible for managing thousands of processes that help produce a consistent flow of work?
If your answer is a yes, you might know that it isn't easy to design and execute all processes in the same manner and achieve their desired performance. Furthermore, when so many procedures are involved, the chances of errors and inefficiencies increase significantly.
However, with enterprise workflow automation, management of these processes becomes comparatively more manageable and efficient. Furthermore, enterprise workflow automation ensures that all manually handled tasks are automated, leading to higher accuracy, productivity, efficiency and audibility.
What is Enterprise Workflow Automation?
Do you feel that your business is slowly failing to elevate the performance of its processes? Furthermore, do you think your organisation often detracts and finds it hard to achieve OKR and KPI goals for efficiency and growth? Have you ever wondered why?
Finding a solution to these issues is essential because consistent inefficiency and failure to achieve your business goals may shut down your organisation.
Businesses often experience inefficiency due to increased human errors and poor time management. When everything is handled manually, it becomes hard to incorporate quality into processes, leading to discrepancies in the goals of various departments.
So, what is the best way to overcome this problem? Enterprise workflow automation is an excellent solution that can help automate many procedures, save time, and reduce human errors. Enterprise Workflow Automation enables you to do your job best without the hassle of redundant workflow by maximising your firm's pareto distribution with the use of resource levelling, setting project objectives or coming up with weekly workplans.
How does it work? Enterprise workflow automation manages thousands of procedures automatically to help your business move forward. It automates these processes using workflow rules in which data, files and human tasks are divided between systems and people as per business rules.
Furthermore, enterprise workflow automation helps identify different ways to map, execute and improve automated workflows, reducing overall time and errors. Enterprise automation doesn't consider the domain of the business as a hurdle. Instead, it identifies underperforming and weak areas of a company and helps optimise it and increase the volume of accomplished work.
Benefits of Workflow Automation
Workflow automation benefits your business and proves helpful for operations, developers, and network administration. Here are some key benefits of integrating workflow automation in your current system.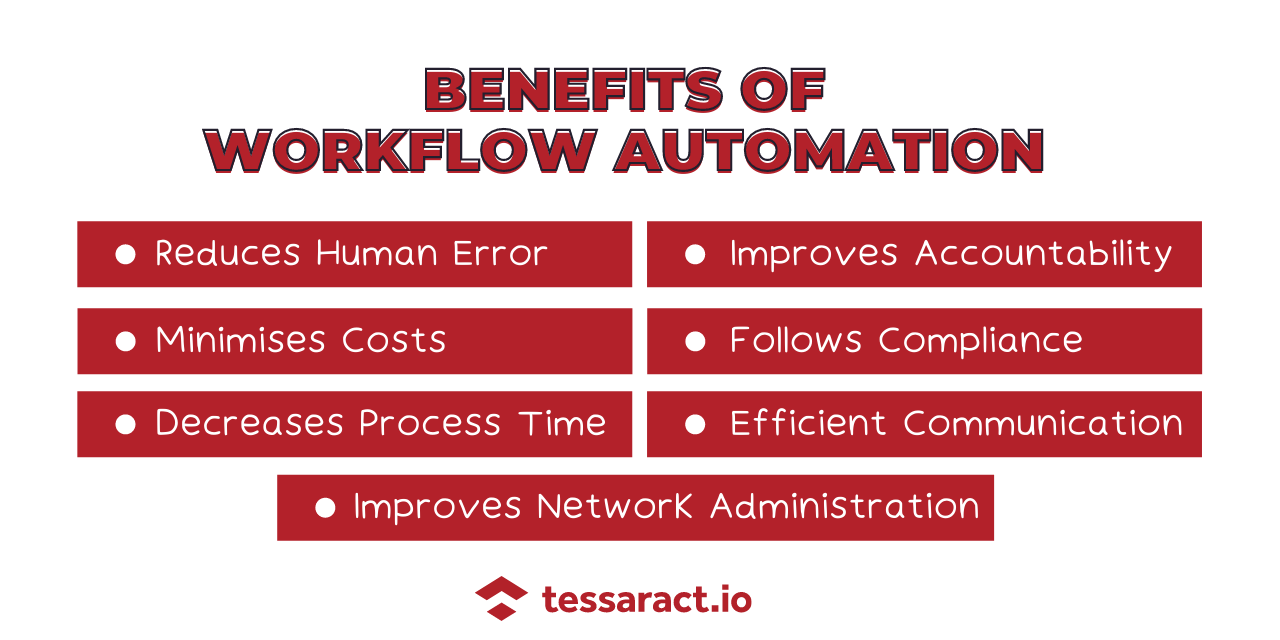 Reduces Human Error
When it comes to manual handling of tasks, businesses often suffer from inconsistent and unstructured processes. This results in increased chances of mistakes and chaos.
However, workflow automation decreases errors from manual oversights and entries. As a result, there is consistent performance in every department and a low possibility of mistakes.
Minimises Costs
Workflow automation also helps reduce costs. For instance, it allows businesses to eliminate redundancies and cancel out all unnecessary processes that might waste resources. In addition, automation streamlines and prioritises efficient processes, ensuring that those not are eradicated from the system.
Decreases Process Time
An automated system works quicker than a manual procedure, which helps reduce the time it takes to accomplish a process.
Improves Accountability
Workflow automation helps increase the transparency of processes, which makes procedures clear and improves overall accountability. Besides, the chances of fraud decrease significantly, resulting in honest and authentic performance throughout the organisation.
Follows Compliance
Another primary benefit of enterprise workflow automation is keeping your business and its processes compliant with industry regulations. This saves you from getting into any trouble regarding non-compliance.
Helps Make Efficient Communication
One of the best qualities of workflow automation is that it eases and clears the path of communication between operations and developers. It also helps eliminate barriers that often create hindrances to smooth operational channels.
Great for Network Administration
Finally, enterprise workflow automation creates excellent network administration across departmental activities and operating systems. Moreover, it helps in the efficient analysis and configuration of network safety and health.
Workflow Automation Use Cases
Enterprise workflow automation has many different use cases with so much to offer. Interestingly, you can find it in most industries and companies, helping organisations achieve their goals.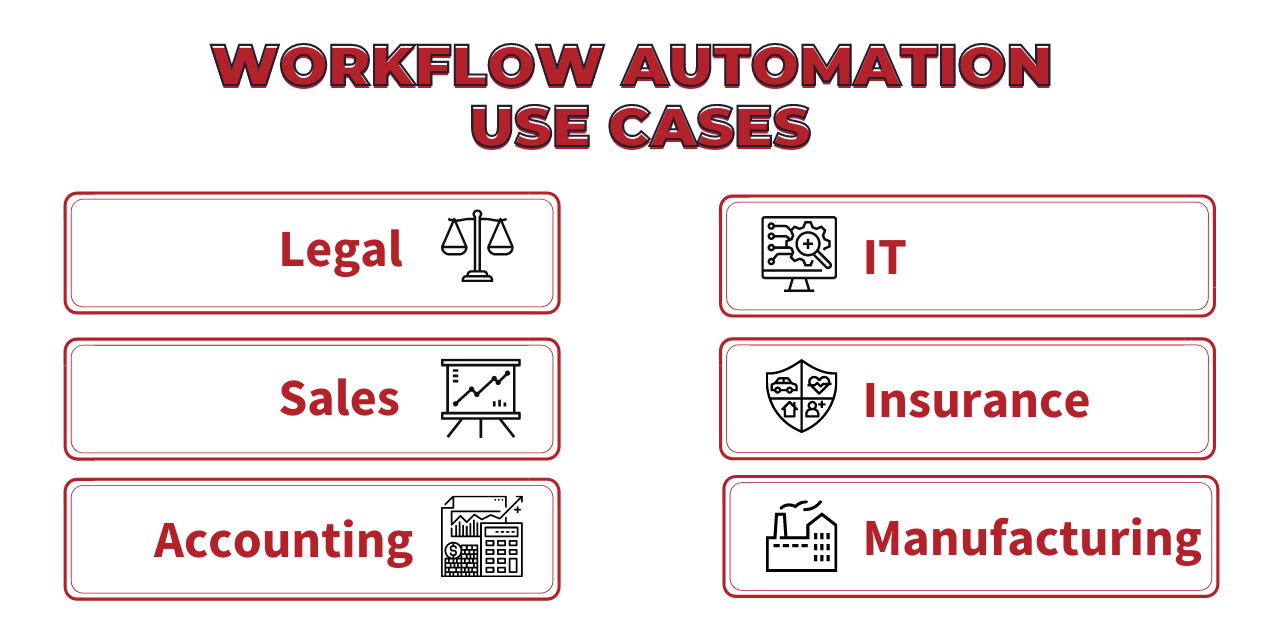 Legal
Workflow automation helps the legal department serve a business in a better way. Besides, utilising a law practice management software enables them to act faster, be more efficient, and generate data-driven decision-making painlessly. It does so by automating repetitive legal-related workflow such as manual time tracking, physical or wet signatures, saving teams ample time managing these tasks.
Sales
CRM or Customer Relationship Management software is ideal for experiencing better workflow management. It automates flow notifications and customer communication, helping improve the overall customer experience.
Accounting
Automation of workflow helps improve consistency in the handling and recording of finance. In addition, it improves accuracy in payments and supports compliance requirements and efficient revenue collection. Tessaract's software supports Peppol e-invoicing and InvoiceNow to ensure that your transactions are seamlessly secure.
Insurance
A great insurance automated workflow leads to the excellent management of documents to reduce operational costs and increase work efficiency.
Manufacturing
Automatic workflow management reduces redundancies in manufacturing processes and improves the quality of controls designed to minimise errors. Further, you can reduce cycle times, planned budget, and purchases related to a specific manufacturing process by automating workflows.
IT
Finally, enterprise workflow automation helps mitigate security threats and ensure smooth responsiveness. In addition, the integration of report automation with your company's security tools allows the IT department to manage all cloud ecosystems effectively.
Workflow automation also proves quite beneficial in managing network operations. For instance, it increases efficiency that helps respond to users across different departments, ensuring that every problem is catered to on time.
Automate your workflows with Tessaract
Enterprise workflow automation is the only way to reduce process time and minimise human errors for better work productivity for large and small organisations. It not only helps streamline your digital workflows by reducing time spent on repetitive tasks, minimising costs and improving accountability through multiple corporate tools such as digital signing, client onboarding and even Peppol e-invoicing.
Build a high performance culture with Tessaract's versatile software that enables your business to improve work performance, achieve OKR and KPI goals by working smarter through the digitalisation of your agile workflow.
Power your firm with Tessaract's holistic software is an optimal low-code and cloud-native workflow solution designed to help you and your team achieve your business goals quickly. Tessaract Business Management Software is a one-stop solution to automate your business processes with ease, from assessment to improve your existing system.
Request a demo today to learn how Tessaract can benefit your business in today's digitally transformed world and stay ahead with the cloud.