Posted by
Pehon
Jan 11, 2022 10:00:00 AM
The primary goal of any business is to maximise profit and attain sustainable growth. For your business to reach its full potential, many steps need to be taken to optimise overall management, financials and customer relationships.
Often this is hindered by escalating paperwork, exhausted and overworked employees, dissatisfied workforce, wasted billable time, lack of proper organisation, team spirit, or ineffective financial know-how. Such inefficiencies result in working hours being spent carrying out administrative tasks, which adds very little to the growth of the business.
Implementing a business management software can efficiently address all these challenges and set your business up for sustainable revenue growth through the digitalisation of your most commonly used business functions.
What is a business management software?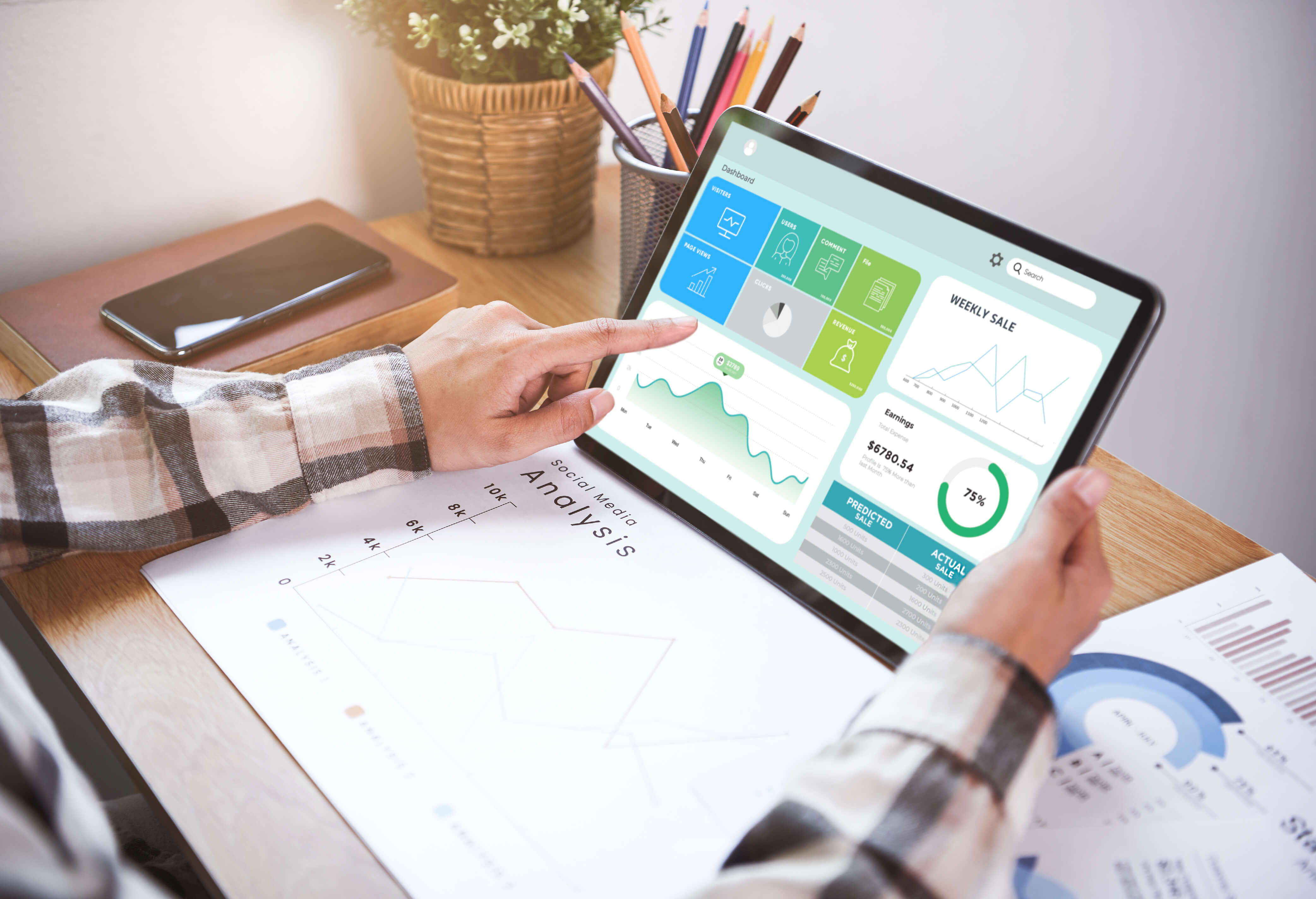 In essence, a business management software helps you manage all aspects of your business. It is a software that is equipped with various tools that enhance employees' ability to work by eliminating errors, completing tasks, improving collaboration, and boosting overall productivity and effectiveness. It is an essential software for businesses to grow while remaining agile.
Why is it important?
For a business to scale sustainably, every employee and aspect of your business must be working at optimal productivity. If you or your employees are busy spending time on manual and repetitive tasks, it eliminates the opportunity of using those precious minutes on more value-added work instead. With the tools and automation functionalities available in a business management software like Tessaract, those hours spent on redundant tasks can be freed up so that you can spend more time on growing your business and enabling your employees to improve their work performance.
Below are a few indicators that your business needs the support that a business management software can help your business reach the next stage of accelerated growth.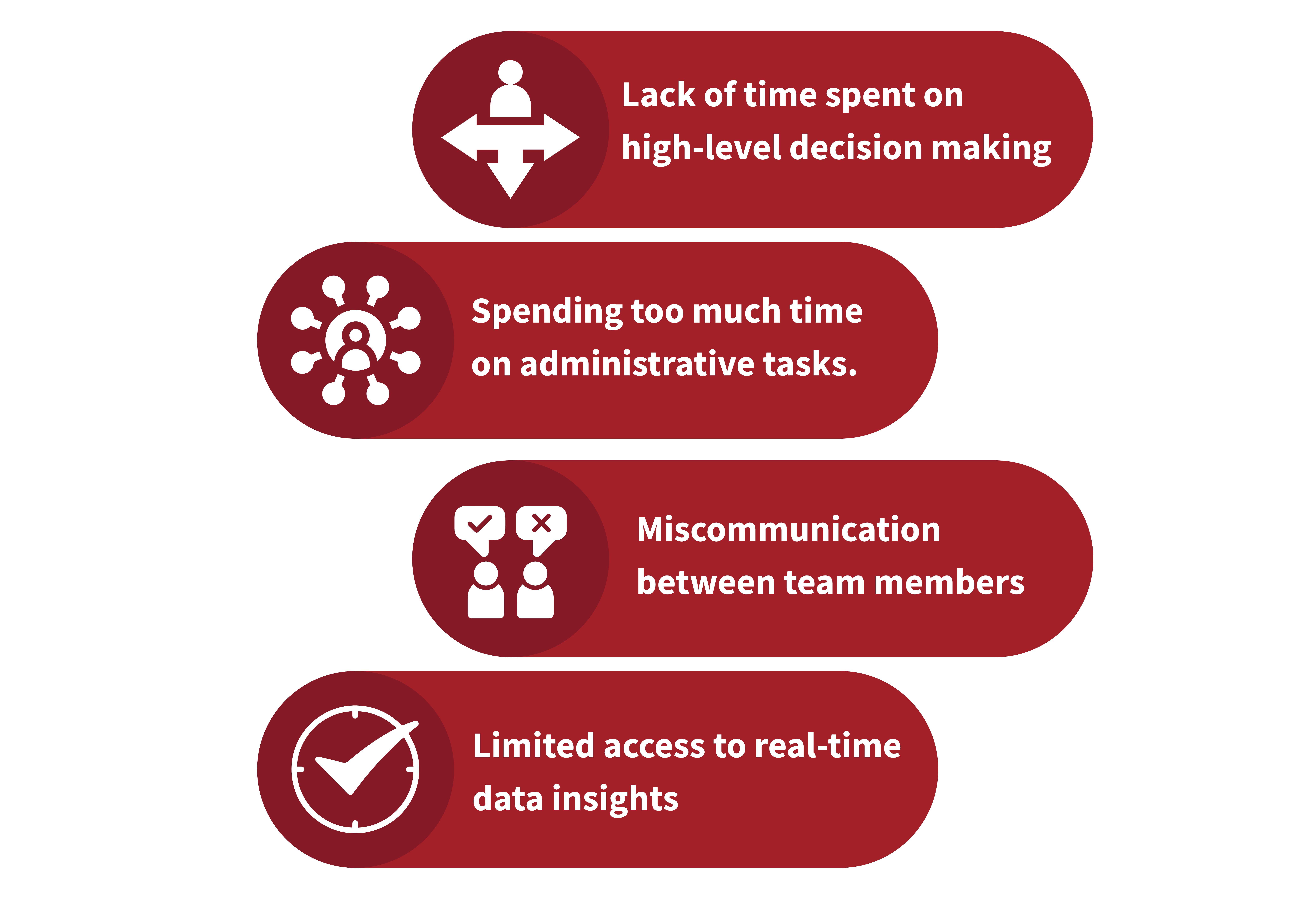 Lack of time spent on high-level decision making
Maybe you've been meaning to spend time strategising for the year ahead. Or perhaps you've been meaning to brainstorm methods to improve aspects of your business. However, the problem is that daily operational tasks keep requiring your urgent attention. Putting off strategising will hinder your business's ability to keep growing in the long term.
Spending too much time on administrative tasks.
These administrative tasks include searching or filing documents, manual data entry, document creation, client onboarding and more. While these tasks are essential in staying organised and keeping the business operational, they're not productive or directly relevant to the business's growth.
Miscommunication between team members
Remote working can be difficult, especially when working with a distributed team. Relying on emails as the primary mode of communication can often lead to miscommunication or lack of response. In such situations, clarifying any misinformation or misunderstandings requires time and often poor employee efficiency.
Limited access to real-time data insights
We've all heard the phrase 'Data is king' and understand the importance of collecting critical business data. However, tracking and viewing the latest data on clients is no easy feat when done manually. Employees spending excessive amounts of hours manually creating and entering data to create spreadsheets and graphs can take its toll on your business as well.
Advantages of utilising a business management system
Growth, stability, and productivity are the primary goals of a business or organisation. A business management software can give you all of those and more! While there are several advantages for businesses to implement a business management software, these are some of the most significant benefits in the digitalisation of your business: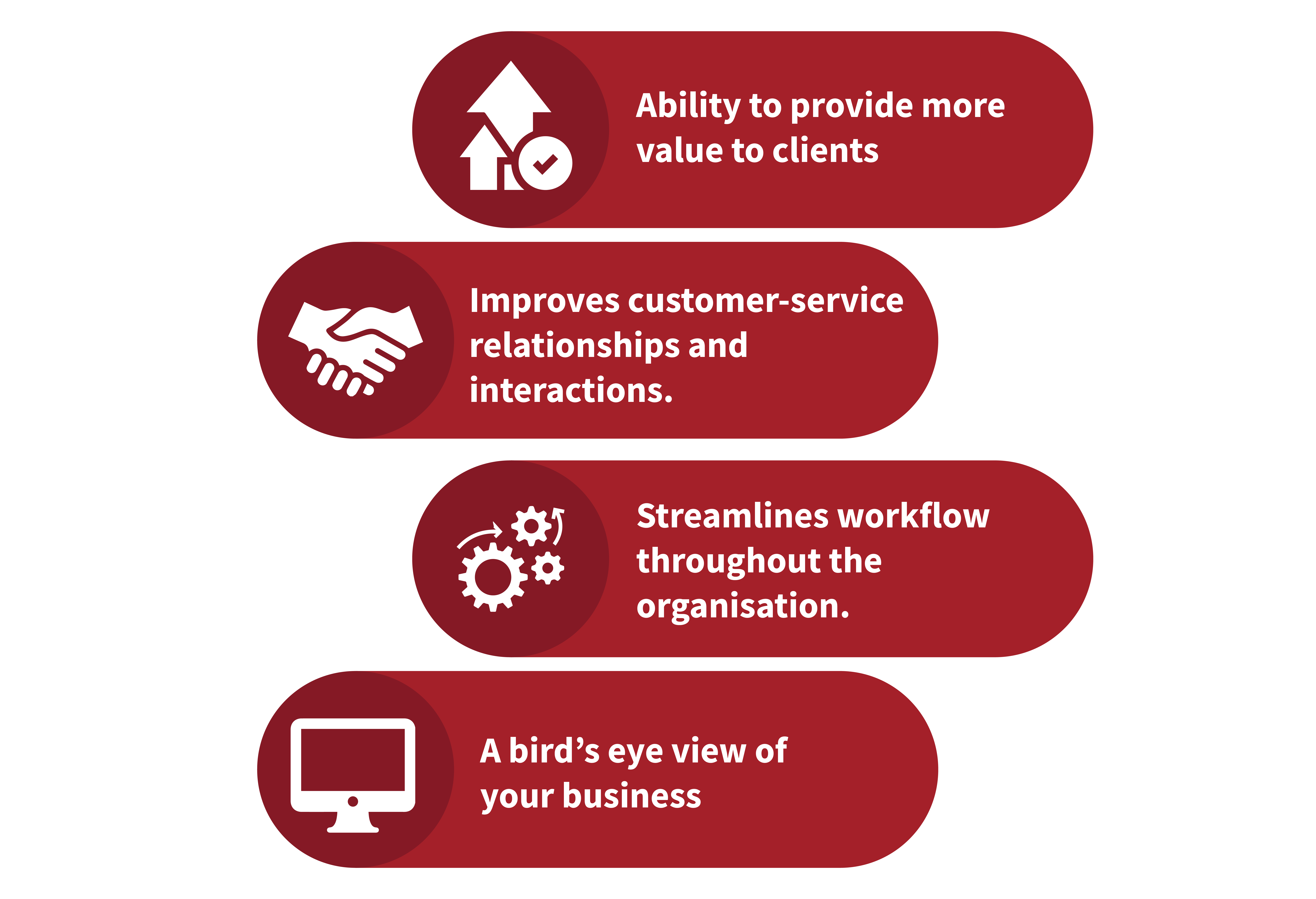 Ability to provide more value to clients
With a business management software, employees no longer have to spend as much time on redundant tasks like data entry and have the flexibility to spend more time on billable work. Combined with the automation functions and project management tools available on Tessaract, your employees will be able to work more effectively as a team and become more task-oriented and focused. By removing the distractions of manual, repetitive tasks, your employees are equipped with the opportunity to focus on the groundwork and accomplish tasks with no added stress.
Improves customer-service relationships and interactions.
With your staff focused on work and the quality of service rendered, they are more likely to interact better with clients. Close interaction creates a high sense of trust and encourages building solid relationships with clients, boosting client engagement and satisfaction. Some ways you can improve transparency and communication with your clients include scheduling a project kick-off meeting and utilising resource capacity planning for the duration of your project.
Streamlines workflow throughout the organisation.
The efficiency of workflows can be measured in the ease with which tasks across various aspects of the business are carried out. Many companies commonly utilise different software for different purposes - i.e. Xero for accounting, Trello for project management, etc. and this means time gets wasted switching between all these applications. With a full-fledged business management software like Tessaract, where all the tools you'll need to run your business smoothly are in one space, agile workflows make working a seamless process. Workflow automation means that data from various business functions can be pulled to generate customer documents or invoices without entering the data more than once. Managing your business becomes much easier when you can do it from digital workflows on a single platform, with increased project collaboration that can maximise resource utilisation and ultimately, growth.
A bird's eye view of your business
An effective business management software empowers businesses to track the progress of everything to foster a high-performance culture- Including your projects, your employees, and even your entire business. Gain access to real-time insights about all aspects of your business and know exactly how your business is doing with a glance. With a broader view of how your business works, you can achieve project objectives, streamlines your project pipeline and reach your OKR and KPI goals more efficiently and quickly.
All-In-One Business Management Software: Tessaract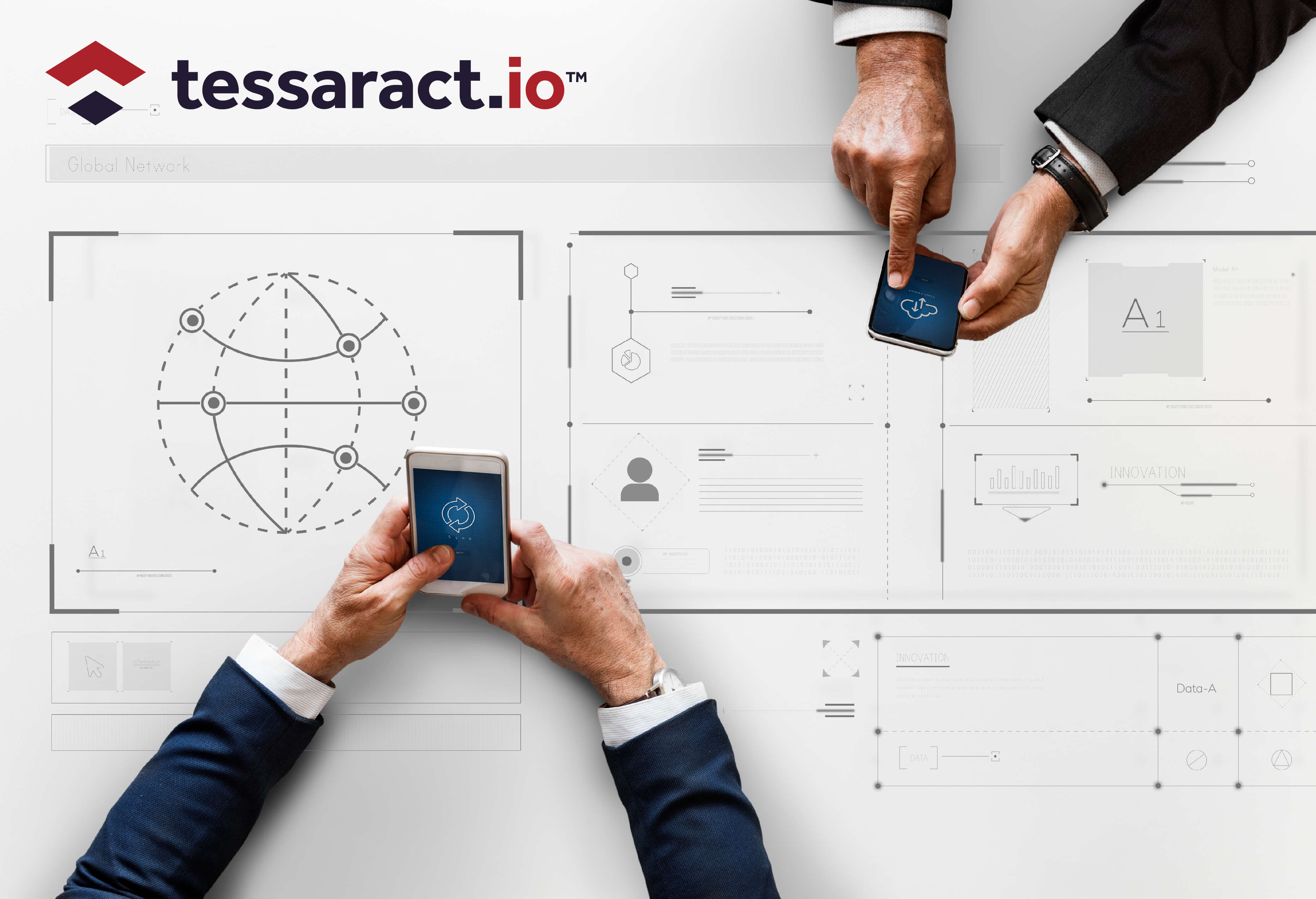 Tessaract is a multifunctional (all-in-one) enterprise management software customisable to your business needs. As a cloud-based integrated project management system, you can manage your workloads more efficiently anywhere with Tessaract.
If you often feel like your business is spending excessive time on administrative tasks, Tessaract may just be the optimal solution. With features that track workflows, schedules, and billings of cases from the get-go, executing tasks on Tessaract is simplified and streamlined. Tessaract has extensive automation features such as automated client onboarding, document management workflows, custom digital forms, and accounting functions so that you and your employees can focus your attention on doing work that really matters.
Finding a solution to your working and productivity problem can be a daunting one, and kickstarting your digital transformation with a business management solution is the solution for your business needs.
Power your business with Tessaract's corporate tools today and experience efficiency at its peak.