A cloud transformation strategy is a plan of action that businesses implement to move from legacy systems to cloud-based solutions. The cloud offers many benefits; however, making the switch can be challenging.
In this blog post, we will discuss the benefits of cloud transformation and outline key elements of an effective enterprise cloud strategy.
What is cloud transformation?
Moving to the cloud can be a significant transformation for any business. It's a change in how you operate, manage your IT infrastructure, and think about your data. But it can also be an exciting opportunity to modernise your business through digitalisation and take advantage of all the benefits the cloud offers by staying ahead with the cloud.
Cloud transformation can help you improve efficiency, agility, and scalability while reducing costs. The key is to work with a partner who understands your business and can help you navigate the transition. You can move to the cloud smoothly and successfully with the proper support.
Cloud services is a growing industry with a forecasted 20.4% growth in 2022 alone. Companies are prioritising the cloud-first mindset and investing considerably to streamline their business processes and take advantage of agile workflows found in cloud-based solutions. Waiting to make the transition can cause you to fall behind your competitors in the race toward digital acceleration.
Benefits of cloud transformation
Switching to cloud-based solutions can offer several benefits if you've been using on-premises software. Here are some of the stand-out benefits of using cloud software: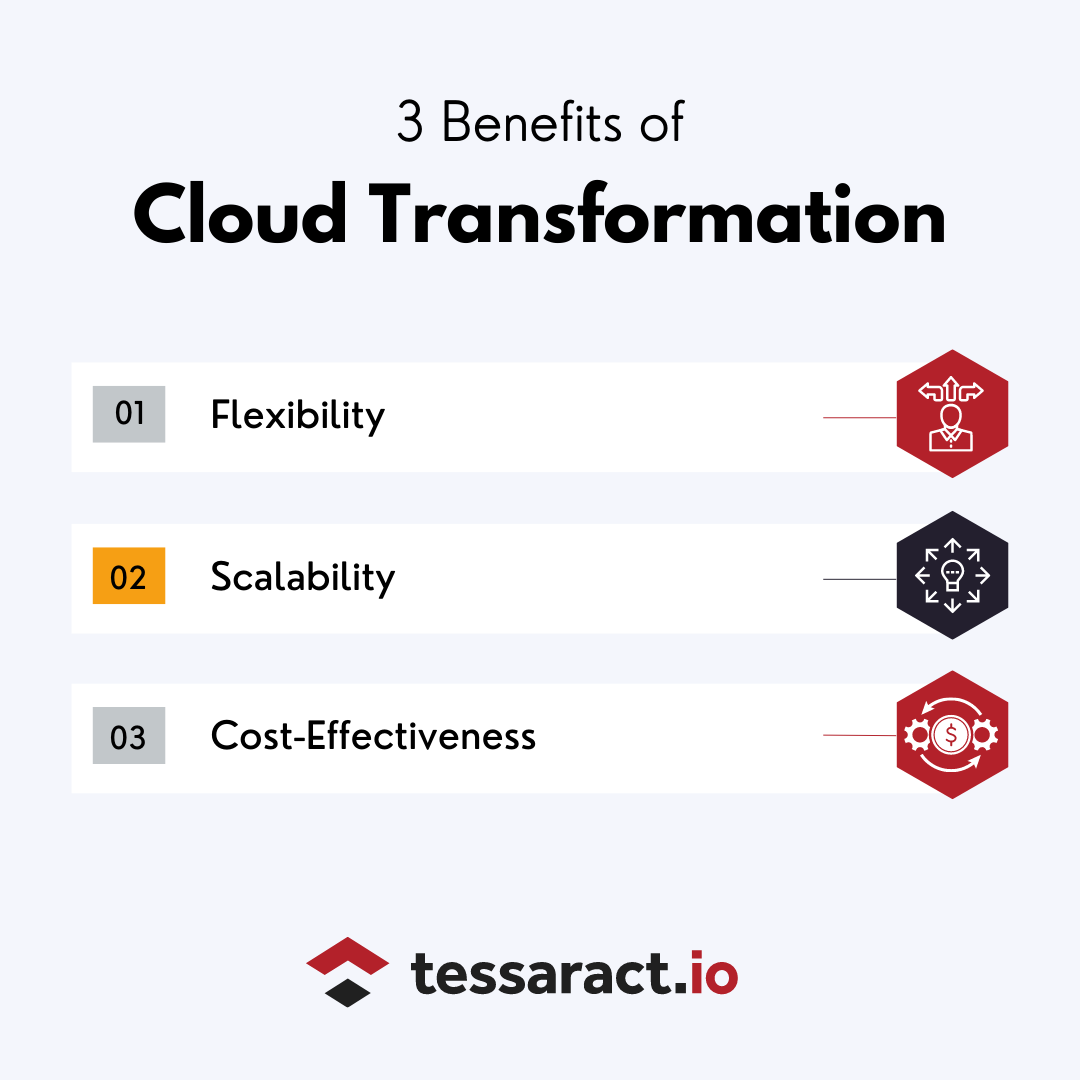 Flexibility
The cloud is a powerful tool that can help businesses to scale their operations up or down as needed. This flexibility can be helpful during periods of high demand or unexpected growth.
For example, if a business experiences an influx of customers, it can quickly scale up its operations to meet the increased demand. Similarly, if a company experiences a sudden drop in demand, it can soon scale down its operations to save costs.
Scalability
For businesses that experience spikes in web traffic, cloud-based solutions can be a lifesaver. Cloud-based solutions are designed to handle a large amount of data and traffic, so they can keep your website up and running even when there's a surge in traffic.
In addition, cloud-based solutions are often more scalable than traditional on-premise solutions, so you can easily add more capacity when you need it.
Cost-effectiveness
The traditional model of on-premises IT infrastructure is expensive, time-consuming, and challenging to scale. By moving to the cloud, businesses can take advantage of pay-as-you-go pricing models and pay only for the resources they use.
Critical challenges of cloud transformation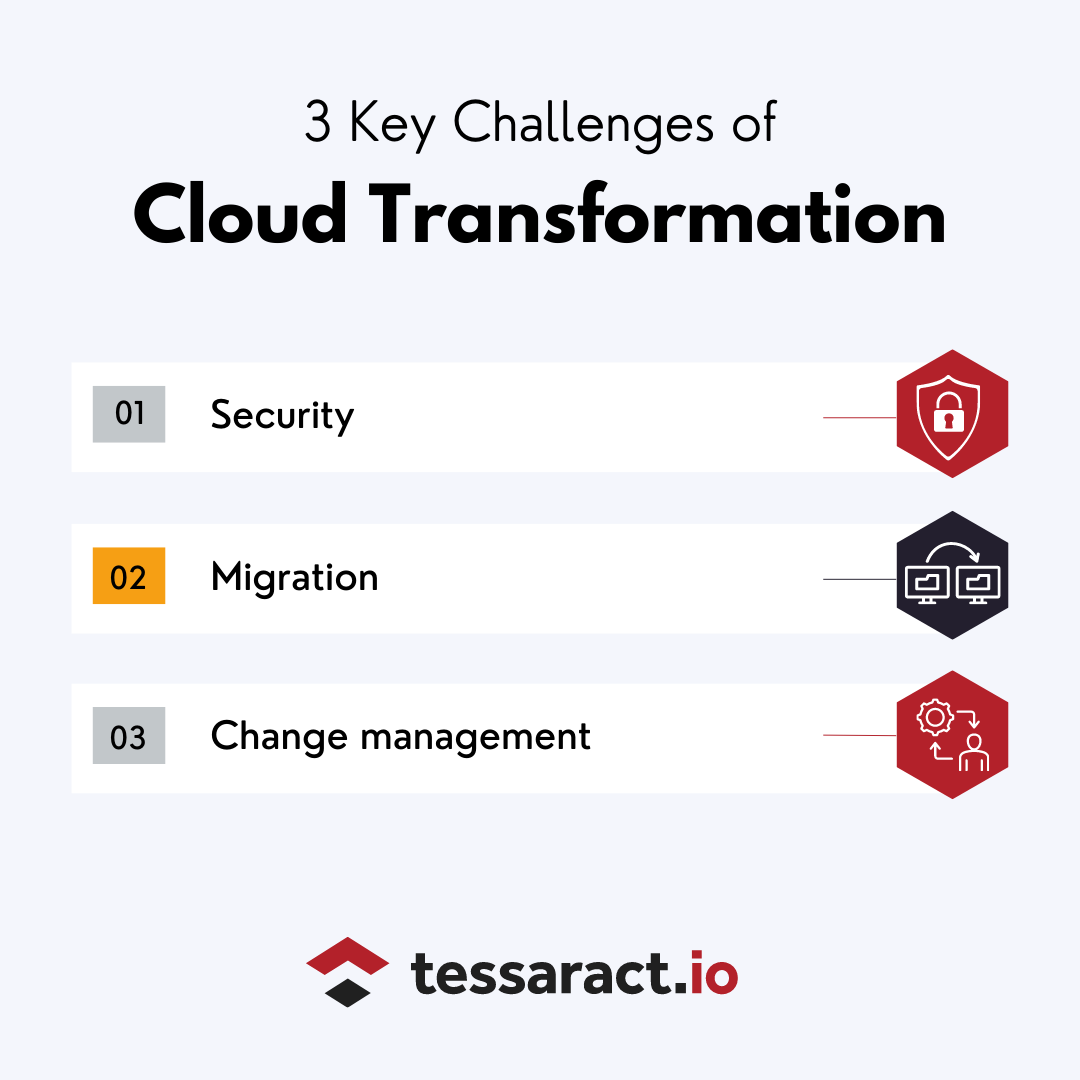 Despite the many benefits of cloud transformation, you must be aware of some issues that can arise during the process. Some of these challenges include:
Security
One of the key challenges is ensuring that data is secure and compliant with industry regulations. Data security is essential for protecting customer information, and businesses must ensure that their data is stored securely in the cloud. Industry regulations can be complex, and companies must ensure that they comply with all relevant laws.
Migration
Migrating data and applications to the cloud can be complex and time-consuming. You need to plan the migration carefully to avoid disruptions to your business. In addition, you need to ensure that all data is migrated successfully and that there is no data loss.
Change management
Any business considering switching to a cloud-based infrastructure needs to be prepared for more than just the technological change. After all, it's not just the tech that needs an upgrade - the whole company needs to be on board with the transformation. That means rethinking processes and, in some cases, changing company culture. It can be a challenge, but it's worth it for the benefits of scaling to the cloud.
Elements of an effective enterprise cloud strategy
Several key features should be included in a practical enterprise cloud strategy. Some of these elements include: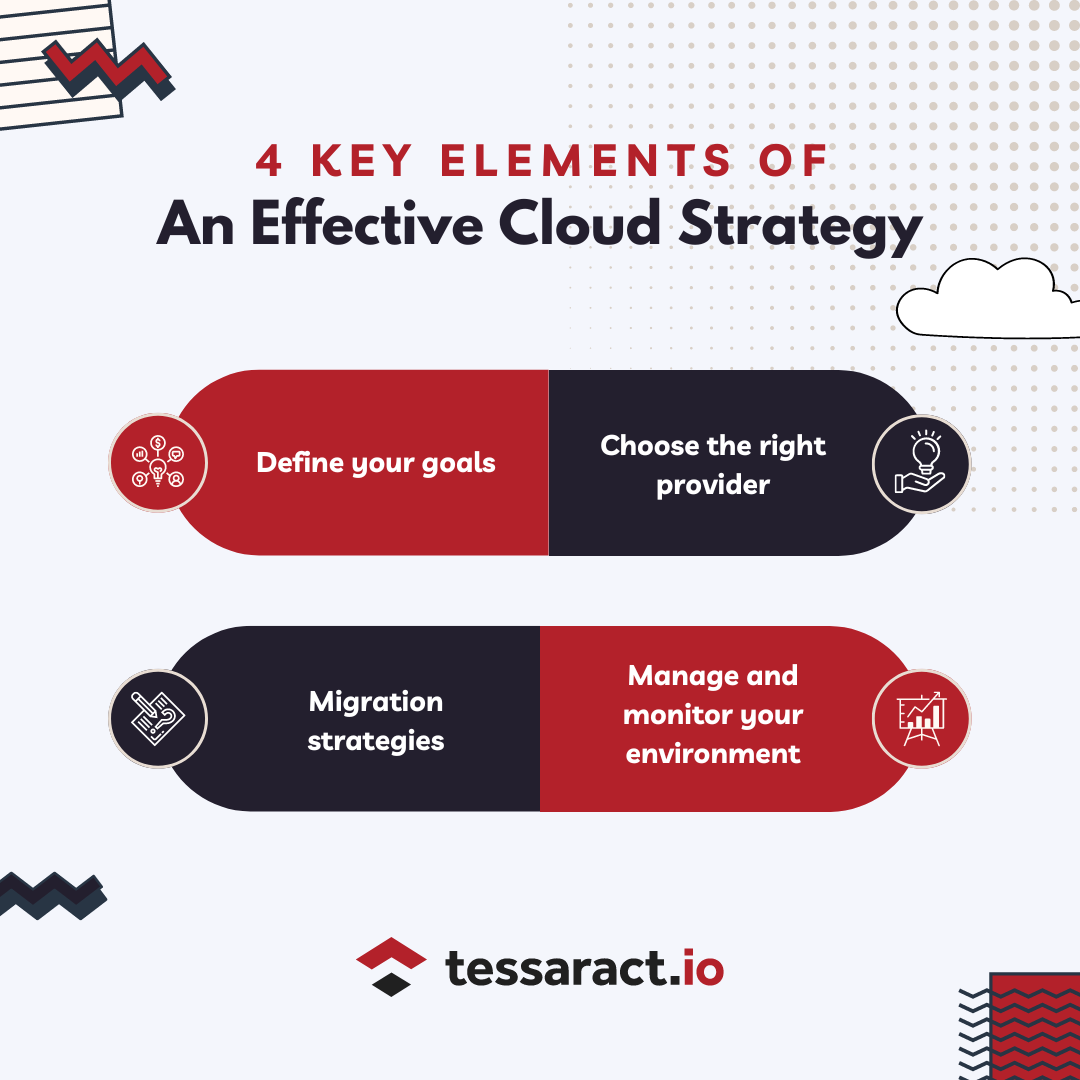 1. Define your goals.
Before you embark on your cloud transformation journey, you must first define your goals and project objectives. Start with the basics and answer the following:
What do you hope to achieve by moving to the cloud?

Do you want to improve efficiency, agility, or scalability?

Do you want to reduce costs?
Answering these questions will help you develop a clear cloud transformation strategy aligned with your business goals. Creating a project pipeline in a project kick-off meeting for your cloud strategy is a useful tip to jumpstart your cloud transformation.
2. Choose the right provider
With so many different cloud providers, knowing which is right for your business can be tricky. Here are a few things to keep in mind when making your decision:
Price: Don't simply go for the cheapest option - ensure you understand precisely what you're paying for and whether it represents good value.

Features: What features do you need? Make sure the cloud provider you choose offers everything you need to run your business effectively. For example, there are many available options to choose from, such as public cloud storage, cloud-native storage and Multi-Cloud vs Hybrid Cloud. Hence, it's essential that you pick a cloud solution that best suits your business needs.

Support: Things will inevitably go wrong from time to time. When they do, you'll want access to good customer support. Choose a provider that offers 24/7 support so you can always get help when you need it.
3. Migration strategies
When it comes to moving to the cloud, you've got options. You can lift and shift your data and applications all at once or take a more incremental approach. You can also choose to go all-in on the cloud or keep some of your infrastructure on-premises. (On Premise VS Cloud)
The key is to be cloud-smart and figure out what's best for your business. Cost, time, and risk are all essential factors to consider. And, of course, you'll want to migrate to minimise disruption to your business.
4. Manage and monitor your environment.
After you've migrated to the cloud, there are a few things you'll need to do to ensure everything is running smoothly.
First, you'll need to set up monitoring tools so you can keep an eye on your environment. This is important so you can quickly identify and fix any issues.

Second, you'll need to establish SLAs with your provider. This will help ensure that your provider meets your expectations regarding uptime and performance.

Finally, you'll need to keep an eye on your costs. The cloud can be a great way to save money, but only if you manage your resources carefully.
A well-thought-through cloud strategy that addresses these key elements will help to set you up for success.
Kickstart your cloud transformation
Making the switch to the cloud is easier when you choose software that simplifies your workflow, reduces the redundancies of repetitive tasks and helps optimise your processes. Tessaract is a low-code, cloud native workflow automation solution that helps your digital transformation as an end-to-end business management tool. Tesseract's digital adoption platform has the essential corporate tools such as digital signing, creating custom client forms, document management workflows and more you need to streamline your business processes. Power your business with Tessaract and contact us today for a demo.