Digital transformation in today's working world is a process as individualistic as the companies undergoing it – no two journeys into modernization are ever alike.
That said, there are absolutely best practices and definitively positive steps that organisations in every industry can take to not only keep pace with technological innovation – but even outpace it, to become innovators in their own right.
A cloud first approach (or cloud strategy) to enterprise software and IT infrastructure has become a must-have element of every business today. It can feel daunting moving ahead with such a transformation in your own company, of course – but as we'll explore below, it's not only surprisingly easy, but might just revolutionise your efficiency, communication style and the health of your bottom line.
What does it mean to be 'cloud first'?
One innovation in the world of computing that has completely transformed the status quo is cloud computing. Networks, file storage, productivity, HR and cybersecurity have all been positively revitalised by innovations in this space, making cloud first approaches to corporate IT indispensable today.
When your business uses a cloud first IT infrastructure, you move beyond outdated concepts like vital project files being stuck in one computer; beyond segregation your remote versus your physically present staff members; and beyond worrying about hard drive limits, data loss due to hardware failures, and information silos due to isolated communication between teams.
Our modern era has demonstrated just how divorced from physical location the workflows of today can be. In a similar way, a cloud first approach to business, using Google, Microsoft or AWS solutions, unshackles your vital files, data and resources from physical servers or bulky desktop computers.
A cloud first IT strategy makes keeping up with the hardware race a secondary concern, unlocking powerful software suites and cloud computing potential that leaves your teams more agile in the way they use their business devices to stay ahead with the cloud.
What kinds of cloud infrastructure are available?
When you move towards a cloud first business model, there are some technical considerations most business leaders will need to evaluate. The good news is, these aren't as complex as they first appear, and advice is always available to help you decide the best approach. Choosing the right cloud strategy is essential, with many differences such as Multi-Cloud vs Hybrid Cloud or On-Premise VS Cloud
Private cloud computer networks use cloud first practices in a highly secure way, isolated from other systems to safeguard sensitive data

Public cloud computer networks are operated by corporations like Microsoft, AWS and Google, and provide tools and storage with ad-hoc security features depending on users' needs

Multi-tenant cloud computing networks utilise multiple hosted or public cloud environments, with the aim of aiding prioritisation or adding a layer of redundancy

Hosted cloud computing networks are often small, focused data centres that are capable of virtualising physical systems
Why move your business to the cloud?
Introducing new changes to your organisation's IT systems isn't always a fun way to run a business – yet the advantages of a cloud first approach in today's market are universally positive.
Cloud-first IT infrastructure is more secure, more efficiently and readily accessible to the colleagues who need it most, and enables access from any online device – lowering your company's reliance on hardware and associated investments.
Consider these advantages to cloud-first enterprise IT.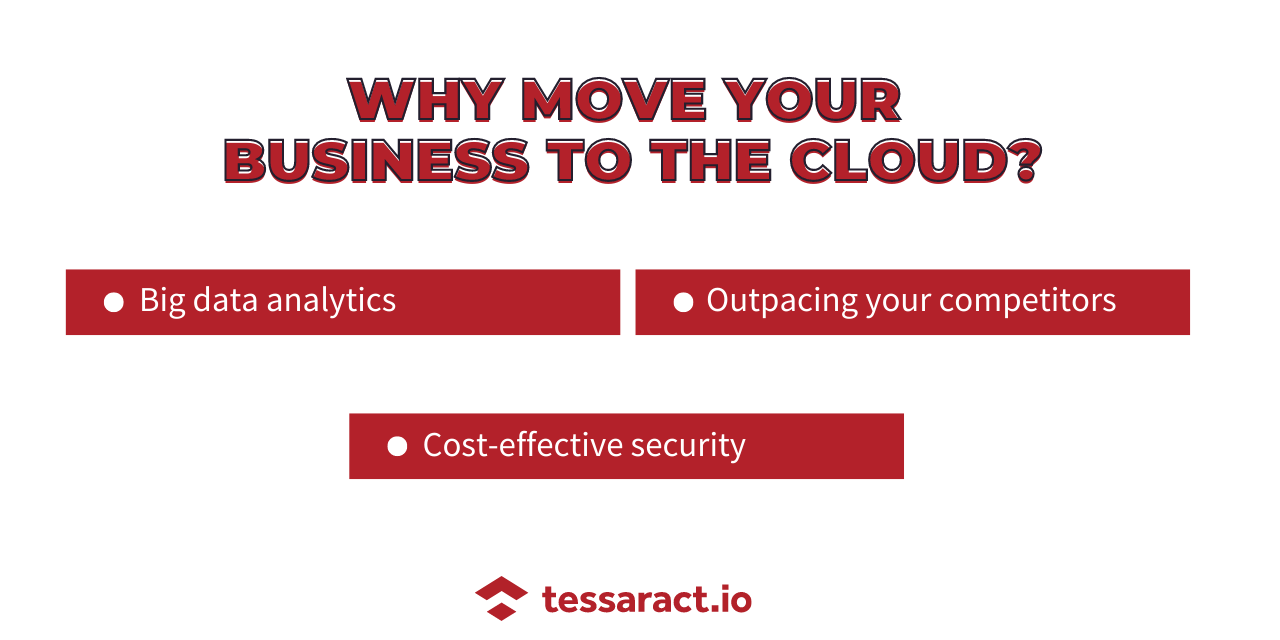 Big data analytics
Little in our modern world moves without data – unlocking the potential of the data moving through your business can unleash powerful opportunities in product development, marketing and increased competitive analysis.
Outpacing your competitors
You may believe going cloud-first is unnecessary, but your competitors disagree. Suppose you have seen an uptick in competitors' activity, level of competency or capabilities in reaching and marketing to new customer bases. In that case, they might be leveraging cloud computing and leaving you behind.
Cost-effective security
Cybersecurity is a massive challenge for every business today – and one in which anything less than top performance can have devastating consequences. A cloud-first approach to IT means that all your data and documents are automatically backed up in the cloud, whatever may happen – and concealed behind robust security protocols that safeguard sensitive information.
Why choose a cloud-first strategy?
The more you understand the advantages of cloud first IT for businesses, the more you will realise that it's a cost effective, scalable and intuitive approach to keeping your business on the growth trajectory you deserve.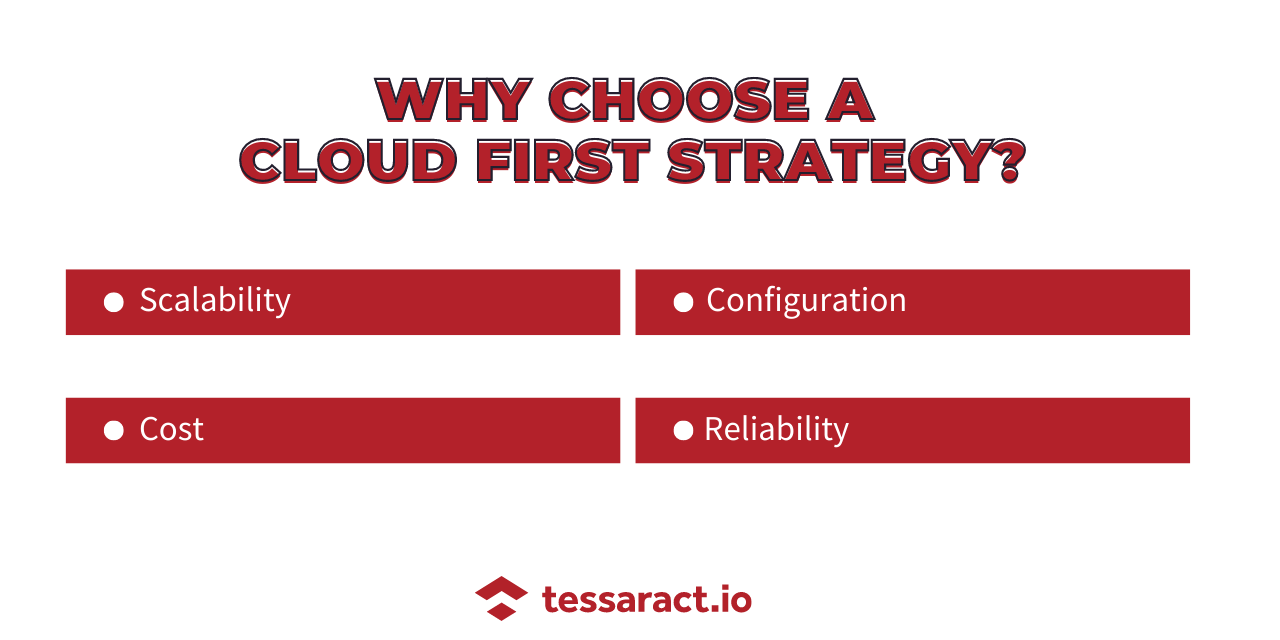 Scalability
One of the most appreciated aspects of cloud-first business IT infrastructure is its ease of scalability. As the business landscape changes, you can freely shift the scale of your operations up and down far more efficiently using a cloud-first approach.
The more technical side of IT is essentially automated for you too. As website traffic increases, so too does your cloud provider roll out new resources to keep things running smoothly. If your own teams' computers are using too much memory or CPU to keep things running on their devices, the cloud switches their resource tiers to assist in the load.
Configuration
Most cloud services use APIs, and are designed overall to be far more intuitive to configure and add more features to. Forget the archaic process of getting new software signed off by management and raising tickets with the tech team to try and get things implemented.
Cost
With transparent fees and well-defined services, cloud solutions providers save capital for any businesses using them. This also helps take away geographic restrictions when doing business as usual. When you become a cloud first business, you unlock the capabilities of big city internet infrastructure, even if your premises are more remote.
Reliability
Is any physical hardware ever polite enough to enter downtime at a decent time? Forget 2AM callouts or work days lost to crashing servers. Cloud providers create their cloud first networks with intelligence failsafes and backup operations to ensure you simply never need to be offline.
Let Tessaract take on your cloud first transformation needs
Going cloud first is a technical trip to take for your digital transformation roadmap, but not one you need to take alone. Using our intuitive cloud-native, low code workflow automation solution for your business will let you unlock the advantages of cloud first IT infrastructure that'll take your operations to the next level by working smarter with intelligent corporate tools.
Tessaract is an ideal cloud-native and low-code workflow automation solution for small, to enterprise organisations that want to improve collaboration, enhance work productivity and performance, and increase oversight. Tessaract enables you to nurture a high performance culture in your company to achieve your OKR and KPI goals with an agile workflow through the digitalisation of your operations. Get started by scheduling a demo or watching videos of Tessaract's functionalities like digital signing or client onboarding.