The legal industry involves handling many documents - letters, contracts, licenses, reports, and notices. While this handling has become decidedly easier with the move to digital proceedings, the problems associated with proper storage, retrieval, searching, sharing, and tracking still exists.
Undoubtedly, it's crucial to invest in the right legal document management system and the right law practice management software.
Legal document management system: What is it?
A legal document management system is a software that receives, creates, tracks, manage, and stores digital files specific to the legal industry. These systems impact productivity positively, so companies that use legal document management systems enjoy a competitive advantage over those that don't.
This is because a legal document management system is transformative. Your legal team can access knowledge and collaborate like never before. The mountain of documents involved in legal proceedings can often be chaotic, but with a secure and searchable repository, there will be an ease of access that's unprecedented.
An excellent legal document management system enables legal teams to get the documents that they need when they need them without any hassle.
The best systems have a few key features.
Features of a legal document management system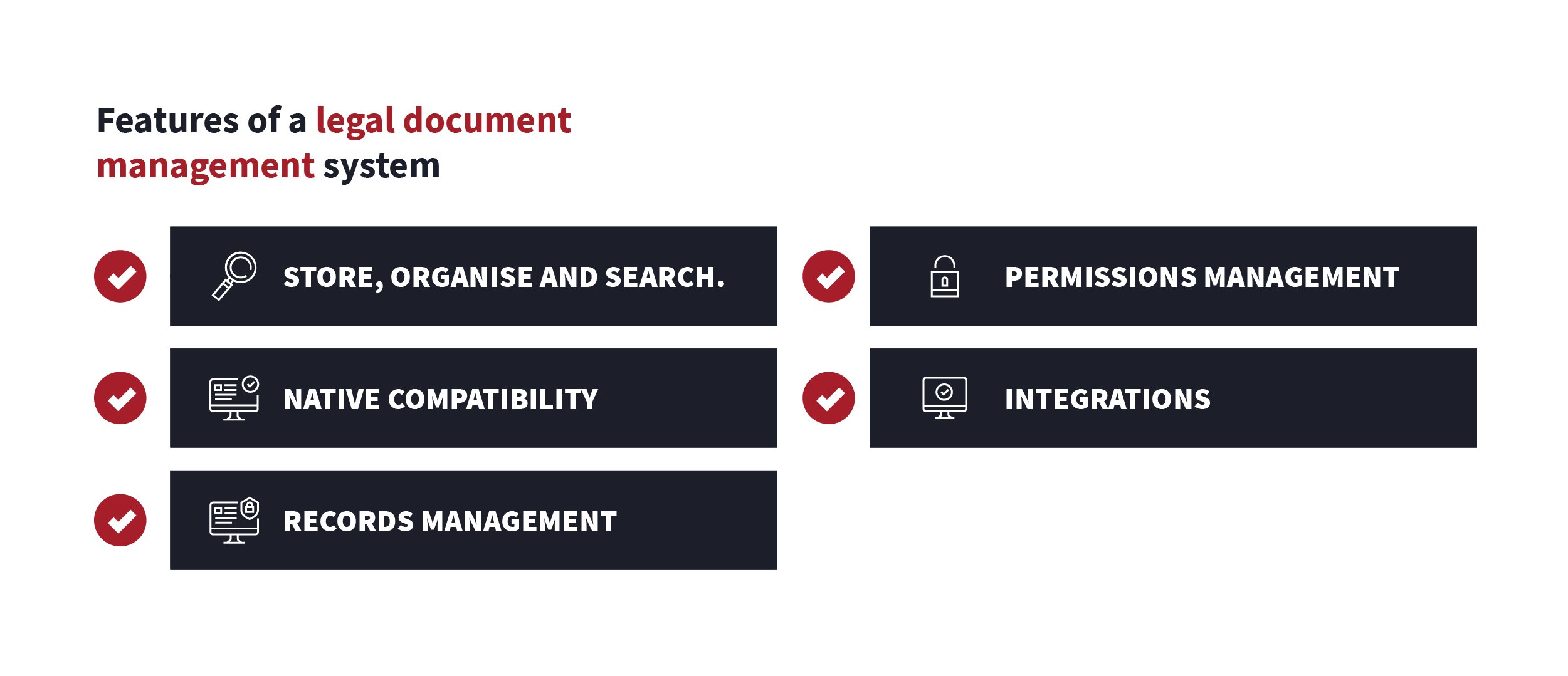 1. Store, organise and search.
The basis of any legal document management system is the ability to store, organise, and search for files. Documents should be easy to store, move, copy, and retrieve. It should also be easy to record information about documents related to what they contain (such as location, year, matter, etc.) so that this information can also be searched for.
Searches should yield results that are accurate, intensive, and expansive.
3. Native compatibility
For ease of use, documents must be opened in their native applications via the legal document management system. An example is a Word document that opens in Microsoft Word when clicked on in the legal document management system.
There should also be integrated with email clients to send documents via email, and attachments in emails can be saved.
3. Records management
Much like document management, records management is concerned with creating, accessing, sharing, and disposal of records. A high-quality legal document management system should have excellent search capabilities for records, ensure that unauthorised changes can't be made to documents, ensure that documents can be locked so that no changes are made. That audit trails are made to keep track of the lifecycle of a copy.
There should also be rules and schedules for how long the document is kept based on the document type. Documents that are no longer needed should be disposed of safely and timely.
4. Permissions management
Due to unauthorised access, there must be the ability to manage role-based permissions to reduce the risk of sensitive information being seen or tampered with. Documents, folders, or even groups of folders can be access-restricted to certain users or groups only.
Sometimes, sensitive data also appears in other places, so it's essential that the legal document management system can hide that data in different system areas, such as searches or mentions.
The data, its matter, and whatever documents it can be found in should be hidden from non-authorised users across the entire system.
5. Integrations
Legal document management systems usually aid with document storage management, but legal teams often rely on various other tools to support the different aspects of document lifecycles.
Great legal document management systems will have integrations with other software that legal teams might use, such as Microsoft Office, Outlook, Word, MS Teams, Slack, and Zoom.
Any other software that your legal teams might use, such as matter management systems, billing software, and contract management software, should also integrate closely.
Benefits of adopting a legal document management system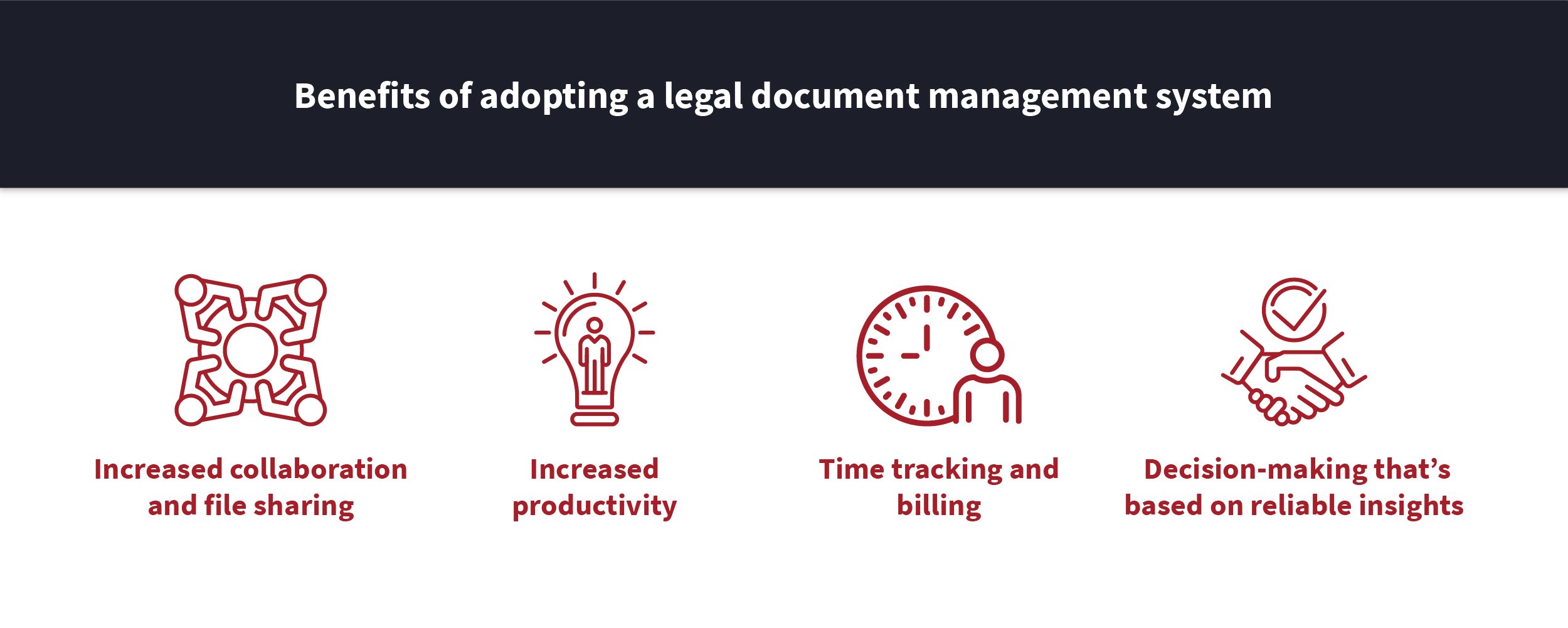 1. Increased collaboration and file sharing
An excellent legal document management system will mean that you and your team get work done more efficiently and to a higher standard. The right system will allow you to store and locate files quickly and collaborate on them.
For example, colleagues can work in real-time to create, amend, and refine documents when drafting. Other collaboration functionality includes co-authoring, connotations, commenting, approvals, and asynchronous work support.
This is done in an incredibly secure, organised, and professional way.
2. Increased productivity
You and your legal team can enjoy increased productivity due to how easily a legal document management system creates, stores, access, shares, collaborates, and signs documents. Every action taken with a document is straightforward with an excellent legal document management system.
This means that less time, money, and effort is spent on such actions, increasing productivity.
3. Time tracking and billing
Monitoring always involves keeping track of time and activity. Legal document management systems can log employees' time as they work on documents and even show which cases and actions were spent on. Time tracking makes billing and invoicing quick, easy, and accurate for lawyers.
This also allows you to see both the productivity and efficiency of the members of your legal team.
4. Decision-making that's based on reliable insights
You can make informed analyses based on the activity monitoring, time logs, and other data that your legal document management system provides you. With all of the performance and productivity metrics available, you can better understand your law firm and team. You will play to their strengths and understand how best to proceed.
You can use this information to make decisions on future paths, grow your firm, and handle your employees.
Tessaract's key document management system features
Tessaract has all the critical features of a legal document management system and so much more. It will give your law firm all of the incredible benefits of not just any average legal document management system but the best of a practice management software.
With the ability to pick and choose what components of Tessaract you'd like, our practice management software integrates seamlessly into your workflow to take your firm to heights it's never reached before.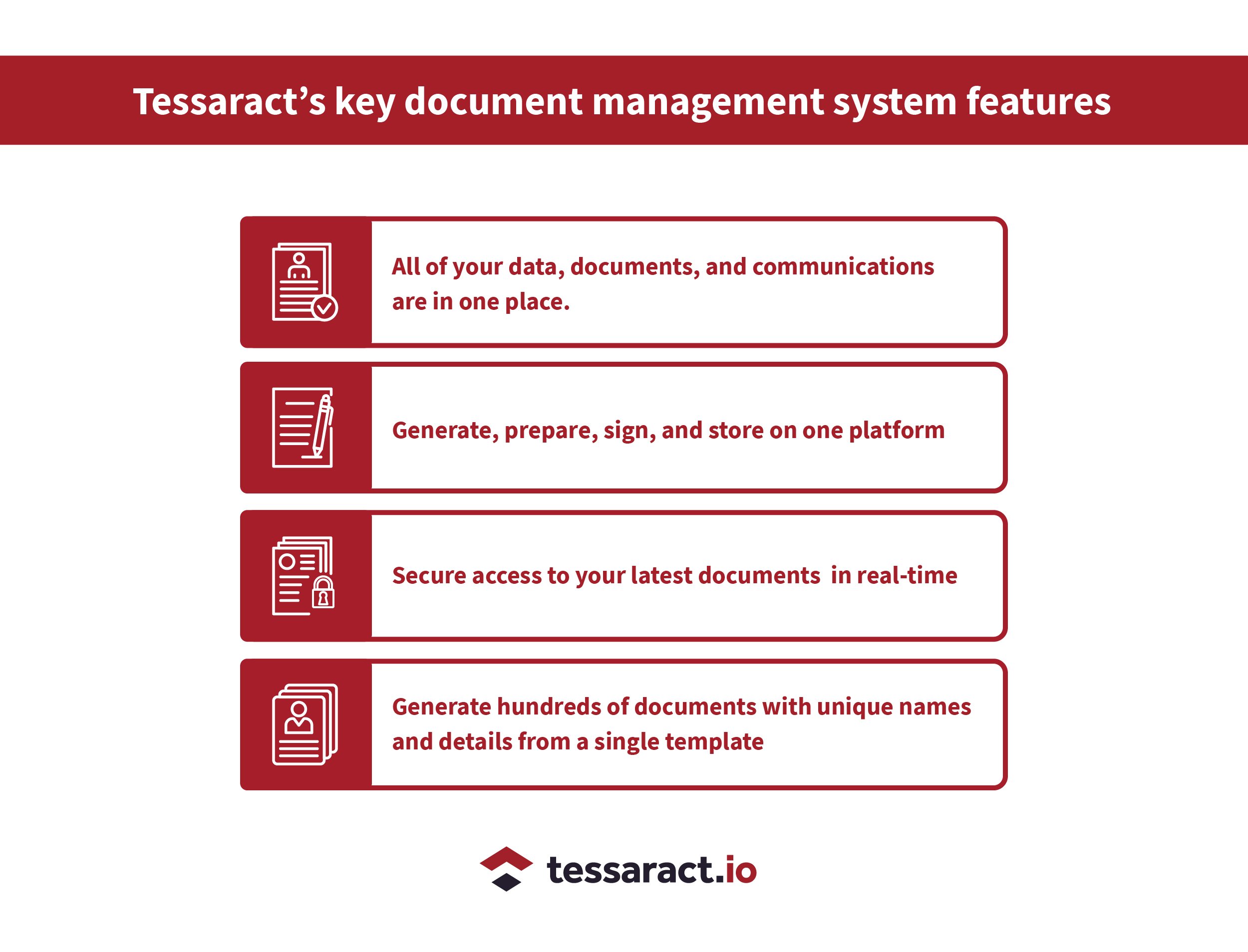 All of your data, documents, and communications are in one place.
All of your data is in a single location. Your files are completely safe and secure, and creating, managing, and fetching them is a dream. Your employees can enjoy the ease of use and unprecedented collaboration and, through it all, peace of mind that Tessaract will support all of their work-related endeavours in a way that's 100% secure.
Generate, prepare, sign, and store on one platform
Tessaract allows documents to be signed quickly and efficiently through digital signing– even in as little as two minutes. Signing processes across multiple parties can also be managed easily. We now even offer the ability to sign with Singpass!
Completed documents are stored automatically on the cloud, so they're always available for access when needed at any time or place, even by team members working remotely, so that all work styles can be accommodated.
Secure access to your latest documents in real-time
A secure native cloud system means that the possibilities of data infringement are minimised and that data remains accessible only to your employees.
If you link your computer, you can easily manage documents on the hard drive from any location with an internet connection without even needing to log in!
Generate hundreds of documents with unique names and details from a single template
With our document templates, you can generate documents fast – even if they each have unique names and details. You can generate them one at a time or up to 100 at a time.
Additionally, our built-in Optical Character Recognition technology means that every document on your Tessaract is searchable, so you'll never waste time looking for something specific again.
Tessaract is the right choice for your law firm.
Tessaract is an all-in-one cloud-based legal document management system and practice management software that enables you to take your legal practice to the next level. Your firm can enjoy more productivity and efficiency as a whole, and so can every individual in your team.
With Tessaract, you can forget about the hassle and annoyance that used to be associated with document management and start serving your clients and growing your firm better than ever before. For more information about how Tessaract can help you achieve operational efficiency and agile growth, visit our That.Legal case study.