Fund accounting is arguably the most critical item that fund managers need to be keeping track of. This is the process by which the books of the fund and the business are kept, and the information gathered related to fund accounting is used to predict fund performance, future sales, and more. No matter what kind of accounting you need access to for your business, you have to be able to collect and track accurate data, or you will be operating blindly and with both hands tied behind your back.
Without good corporate tools for fund accounting, you will struggle to prove to investors that you are a good choice for their management needs. You will also struggle to stay on top of the changes in the market that are happening at lightning speed all around you each day. You can only put so much time into the tracking that is going on behind the scenes and having a tool that automates many of these processes can be a significant benefit to your fund accounting processes.
If you are ready to learn what fund accounting software is and what it can do for you, you need to read on.
What is Fund Accounting Software?
Fund accounting software is a tool that tracks the books and the records for your investment portfolio, but this tool can also perform capital calls and distributions to investors. You should also be able to track the management of the disposition of your funds and assets with this tool. There is always much information coming at you quickly as you manage a business, and you probably do not have time to keep track of this accounting by hand constantly.
Being able to see the forest through the trees is essential to a good understanding of the behaviour of a portfolio or a business. You will never be able to be as accurate when crunching numbers by hand, and having a tool tracking the behaviour of the various ways that cash is coming into and flowing out of your business is critical overall. You need to have access to accurate information about your organisation's financial records and the individual accounts that it is composed of.
With so many moving parts, it can be hard to track all of the relevant data you need to access to make educated business decisions. Fund accounting systems and document management systems make it simple to keep track of all the data and details that you need to make business decisions without hesitation.
Features of Document Management Systems
Businesses have a constant stream of funds and documents going in many different directions that require careful attention. Losing track of the money charged on account of forgetting to follow up on funds that have not been received can lead to significant issues with the necessary cash flow to keep a business solvent. Various processes are specific to the business reality that fund accounting software can handle easily.
A good fund accounting software product will track each client's general ledger and allow access to information related to accounts payable as well as partnership account processes. Budgeting and forecasting can be accessed with a quality product as well. If you want to track accounts receivable, you might need to ask about this feature as not every fun accounting software will offer this benefit.
Billing and invoicing is often the critical element that businesses need access to, and this might only be secondary to the usefulness of the general ledger. Having the ability to look at budgeting, forecasting, financial reporting, and activity tracking are secondary benefits. Still, they can make a huge difference in your overall fun management tracking process.
Why Do You Need to Invest in a Document Management System?
There are some key reasons that you need a document management system in place that will also track your fund management processes. There are so many parts of any business that require great attention. It can be bewildering to follow them all unless you can see these various components all in one place. Having a higher-level view of your business can be very helpful, and digging into the minute details as needed can make business decisions more accessible and more targeted.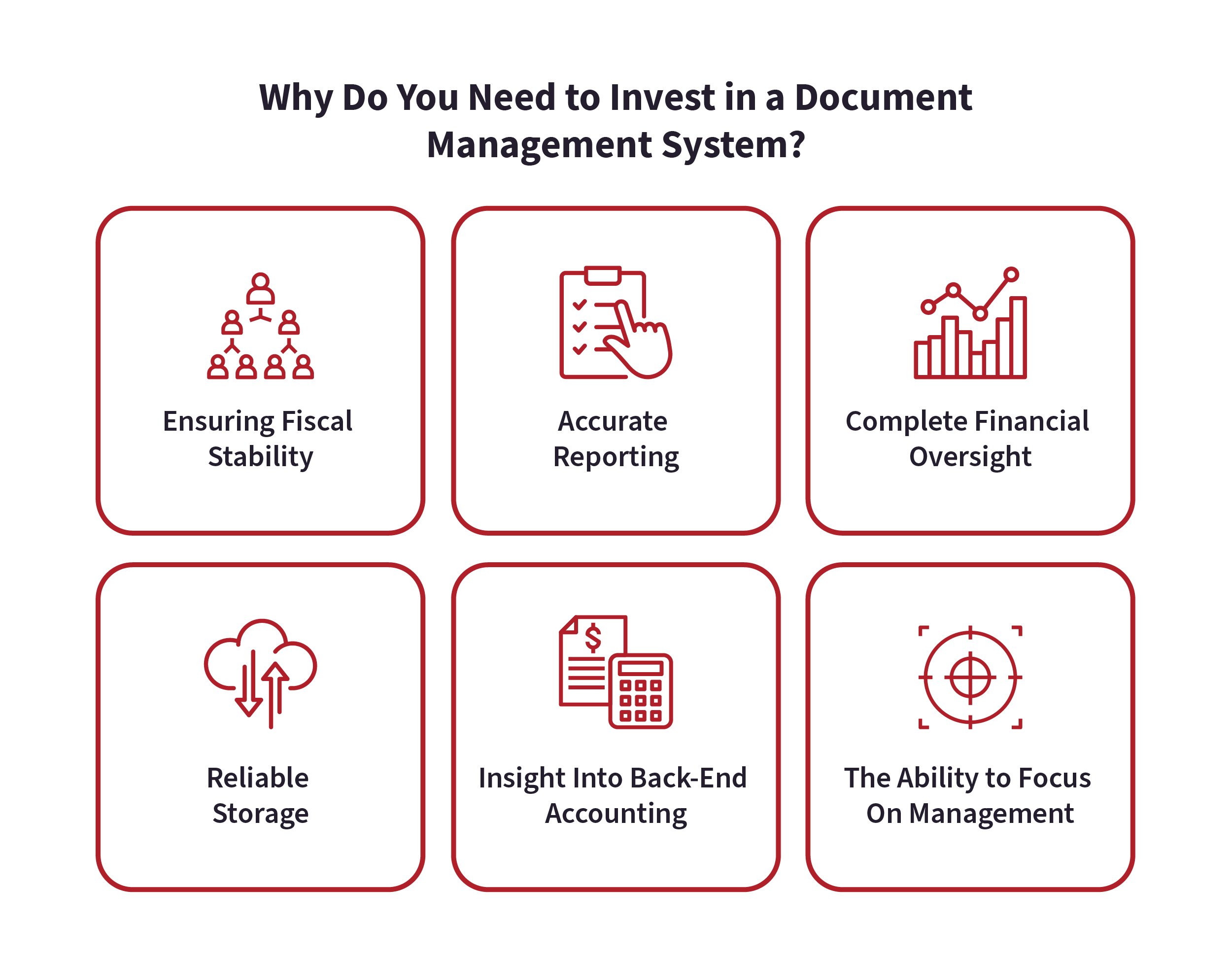 Ensuring Fiscal Stability
When you are sure about the financial positioning of your business, you can effectively choose to scale your business or hold a firm for a while. Buying, selling, or simply waiting to see which way the wind blows are all decisions that require data to support them. Without a good document management system and excellent fund accounting software, you will struggle to maintain this component of a healthy business.
Accurate Reporting
It would help if you showed that your business is on target for growth and solvent. It would help if you also looked at unique projects and investments to show that they perform as they should. Investors and customers alike will want to know about these details of the inner workings of your business, and you should be looking at them each day as well. The fund accounting process is critical to the success of any business, and reports are the backbone of the decisions that are made in any successful company.
Complete Financial Oversight
Being able to step back and take a hard look at the sum of your business' income and costs is critical. You will have all the reports and information that you need to make wise and worry-free decisions about your business when you have the right fund accounting software deployed in your industry. You will want to be sure that you can afford to make changes, take on new clients, or make software and working space upgrades every year. Without a proper accounting of your assets and income, you cannot be sure of these choices.
Reliable Storage
While not glamorous, storage of documents is critical to managing any business. You will need to share files, store documents, and track client information with ease. This is a frequently overlooked feature of software tools in this category, but it is critical for business success. Finding exactly what you need when you need it matters when you are operating any business, and being confident that your important documents are safe offers peace of mind.
Insight Into Back-End Accounting
This is one of the critical areas where fund managers can see trends in the portfolios they manage. This back-end accounting tells you how much to invest and look at money owed. Reporting metrics at this stage of the investment process are necessary to promote straightforward decisions. Fund managers need to stay up to date with the current standing of a portfolio to make choices without concern.
The Ability to Focus On Management
You will have to wear many hats when you own a business. You don't have time always to be wearing the accountant's hat. Making decisions that will empower your business to grow and succeed can be easy when you access organisational strength backed by well-crafted functionality. If you are free to see the forest through the trees, you will be much better able to run your business effectively and be a well-informed manager.
Tessaract Offers Fund Accounting Solutions For Your Business
Tessaract knows that you need to manage your business while keeping both hands on the wheel. You do not have time to waste providing endless accounting support for your business if you have the right fund accounting software in place. This is one of the critical elements of any successful business, and Tessaract has taken the time to build a powerful, intuitive, and workflow automation tool that will keep track of all of your income and outflow from your business and reduce time spent on repetitive tasks.
Power your firm with Tessaract – no matter what kind of funds tracking you need access to, Tessaract can help you to keep your finger on the pulse of your business to improve work performance. You will be able to stay up-to-date with customer demands and track the money flowing through your business with ease. Smoothing out audits and tracking costs has never been easier when you have Tessaract on your side. Gaining access to customer support when you need it will eliminate panic when something is not working the way it should on a day where you really need access to your data. Furthermore, Tessaract supports native integration with InvoiceNow, streamlininng invoice communication regardless of whether the sender and receiver use different accounting tools, billing practices, or data formats
Contact Tessaract today for access to real-time analytics, quality, full-serve accounting solutions, and optimised data and document management that will make your business operate smoothly and successfully.