An accounting practice management software holds the key to your accounting operations. It manages the front- and back-office processes for businesses. It organises company services, managing delivery dates, tasks, and workflows.
As a result, accounting professionals can work smarter and more efficiently. This ultimately improves your efficiency as a company. More importantly, it's a tool that can enhance your customer relations and bring more business to your company in order to foster a high performance culture.
In short, the accounting practice operating system has everything to make your accounting practice smoother. The best part is that they are customisable according to your needs.
Suppose you want to track projects and calculate billable times. Or you a platform for your customers to interact with the accounting services. As a solution, accounting management software can take care of it all.
But what makes accounting practice management software so important for a company? Well, most companies eventually integrate this software to manage their core activities.
But let's dive deeper. Let's understand why accounting practice management software can be the right choice for businesses.
Who Benefits from an Accounting Practice Management Software?
These software tools are quite versatile and offer customisability. This is why they are ideal for any company size. A good accounting management software can serve:
Small-scale company

A large enterprise

Independent accountants
An accounting practice management software can help you in more ways than one. These include:
Monitoring accounting practice activities and tasks.

Maintaining service portfolios for professional accountants

Letting your customers communicate with the accountants

Managing customer relationships

Generating invoices and tracking payments

Tracking project status to create accurate billings

Automating daily tasks and organising workflows

Managing legal documents via a cloud-based service
In doing so, it prevents repetitive tasks. Plus, you don't need a hard drive to store all the transactions.
Essentially, accounting practice management software is all about efficient documentation and management. Hence, it's more of a document management system (DMS) that takes care of your business dealings. So as a decision-maker in your accounting firm, there are several benefits of using these software tools.
The Top Features of a DMS
Document management forms the base of an accounting practice management system. So, if you're using a high-quality software like Tessaract, you can expect some of the essential features such as: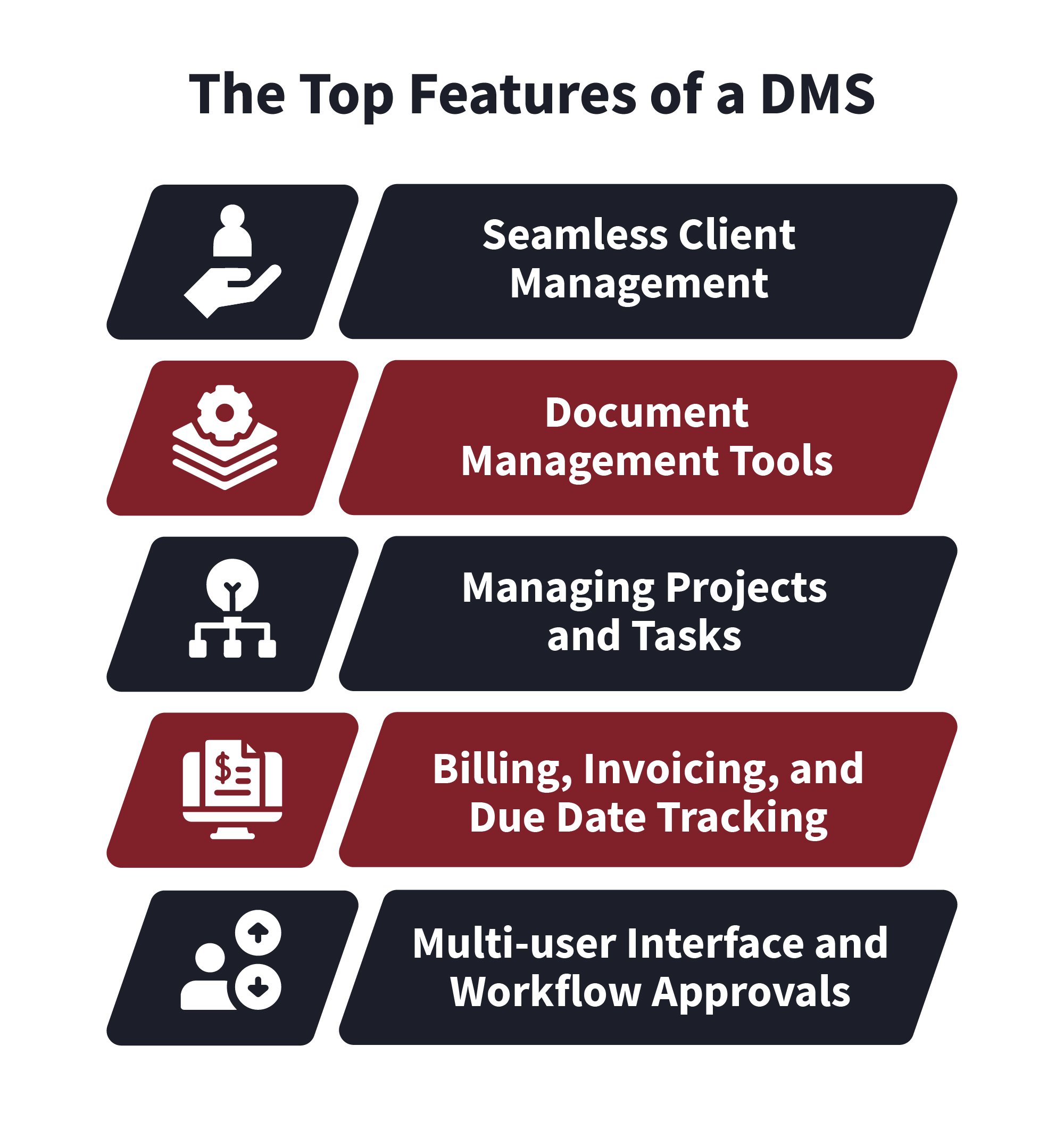 Seamless Client Management
Managing clients is the real deal, after all. Handling them and easing communications for effective project results is essential. Often, clients may not provide the correct details that you might need for the project. Here, an accounting practice management software will be more than helpful.
It can efficiently communicate with the client directly through the platform. Moreover, additional management tools promote effective company-client relations and help get new customers.
Document Management Tools
Handling documents is a tedious job, but it's necessary for every company. Again, you can use the accounting practice management software to do the job. It offers a cloud service to help you collect, upload, store, and share your documents. These may include:
Project information

Meeting minutes

Contact details

Other crucial data
This way, getting real-time access to these documents would be much easier.
Managing Projects and Tasks
Every project requires resources, time, and adequate cost allocation. So, management software lets you create a list of actions and keeps you on track. With the help of a good software tool, you can:
Plan your projects with weekly workplans

Set milestones

Assign tasks and track performance

Calculate your expenses

Check completion status, etc.
Billing, Invoicing, and Due Date Tracking
You can control the corresponding monetary matters as you manage projects, assignments, and tasks.
For example, you can create invoices bills and manage payment status between the parties. Also, you can sort, identify and notify the parties about upcoming payments and the necessary actions to be taken on approaching due dates.
Multi-user Interface and Workflow Approvals
An accounting practice management tool offers a multi-user interface. This means your stakeholders can go through the document from their respective locations. This multi-user accessibility makes document approvals easier.
Given the role-based restrictions, you can assign tasks to different members. Moreover, tracking workflow would be much easier.
Benefits of Adopting an Accounting Practice Management System
An accounting practice management system offers ease of operation and seamless workflow management. Besides, there are several benefits for accounting teams.
For an accounting team manager, it can help you:
Enhance team productivity

Maximise data security, and

Track company performance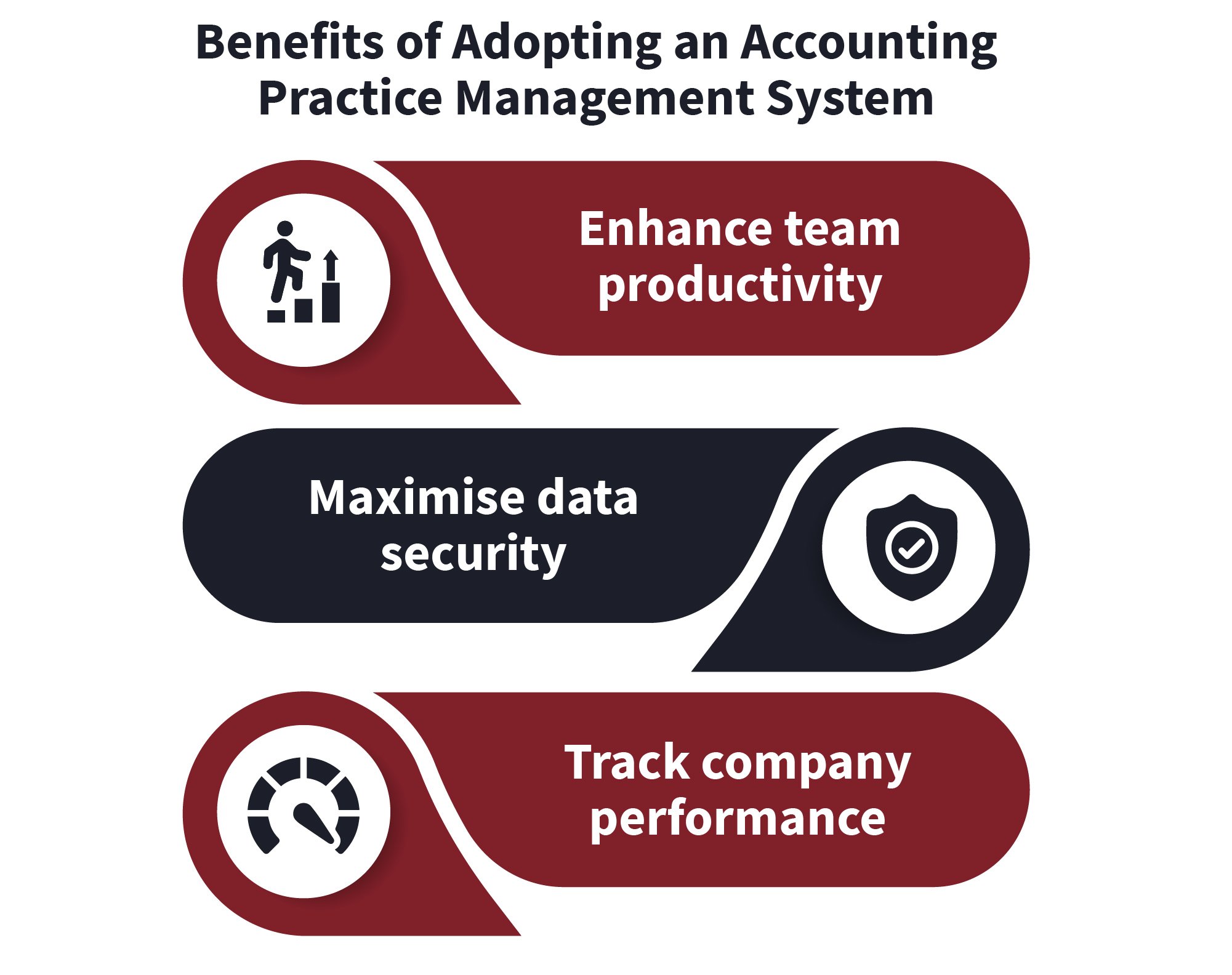 Here is how it can help:
Bypassing Manual Workflows and Enhance Productivity
Accounting involves several repetitive actions. These include invoice generation, billing calculations, etc.
An accounting practice management software lets you automate most of these tasks. But, more importantly, the documents go to cloud storage instantly. So, you don't need to send documents manually for approvals. Instead, the relevant personnel can access the documents from his specified location. This reduces processing time for billing and invoices.
Moreover, automated processes mean you can spend more time on productive tasks. So, you can complete pending tasks, manage due dates, and address any additional requirements from the clients.
Secure Data with High Confidentiality and Legal Compliance
Since the software has a central storage mechanism, all your documents are well organised and securely placed on the cloud. As a result, it makes managing more documents and historical data easier. On top of that, there is no risk of document loss either.
Your data is completely safe on the cloud, thanks to user authentication and data encryption features. In addition, there are role-based permissions so to ensure confidential access to the data. This is a significant benefit because clients want foolproof security with their project documents.
A quality accounting practice management software can manage, store, and process regulations like:
Payment Card Industry Data Security Standard (PCI DSS)

Federal Information Processing Standards (FIPS)

Health Insurance Portability and Accountability Act (HIPAA)

Peppol Framework
This ability will help you manage audit trails and document version history. Hence, you can prove your compliance with these regulatory bodies.
Measure and Track KPIs
As the accounting practice management software keeps track of projects and tasks, it allows you to measure KPIs, such as:
Customer lifetime value

Acquisition costs

Net promoter scores

Average customer revenue

Monthly recurring revenues and other performance indicators.
Ultimately, these OKR and KPI trackers act as actionable insights can help you achieve better results and improve your efficiency as a company.
Things to Consider While Purchasing an Accounting Practice Management Software
Now that you know what an accounting practice management software entails, here are some considerations when utilising this workflow automation tool.
Purpose of Use
Ask yourself why you want to use the software. For instance, large enterprises may have a more complicated system to contend with. On the other hand, smaller businesses may be better off with more specific and basic software features like billing and time tracking.
Likewise, midsized companies may need advanced features like timesheets and workflow management tools. Finally, if you are a large enterprise, you might need features like team collaboration, role-based authentication, multi-user accessibility and more.
So, depending on your business needs, you must choose software that provides features flexibility.
Check Compatibility
See if you can integrate other corporate tools with your preferred accounting practice management software. After that, think about the features you want to add to your existing software infrastructure. A software tool without integration would make an extra burden.
Tessaract: The Ideal Accounting Software
An accounting practice management tool has a lot to offer for accounting firms regardless of their size and operations. With an optimal software like Tessaract, you have much freedom and reduce time spent on repetitive tasks to build a high performance culture. It enables you to automate workflows, manage documents and invoices, collect online payments, store documents on a cloud service and much more to increase work performance. Furthermore, Tessaract supports native integration with InvoiceNow and further augments the standard's capabilities with intelligent and comprehensive workflow tools.
Tessaract is perfectly customisable to your business needs and excellent software if you want to scale your accounting firm for agile business growth. Power your business with Tessaract today by requesting a demo.