Legal professionals are increasingly moving to working in or owning boutique law firms. That does not mean that everyone should practice law in a boutique law firm. However, there has been increased interest in this kind of legal office compared with Big Law because of the benefits of this kind of law practice.
A boutique law firm is an increasingly common means of managing a client base without outgrowing the ability to provide attention to detail to each case. Boutique law firms offer the chance for lawyers to focus on niche specialities and work on every aspect of their cases if they wish. This can be an excellent fit for lawyers working with clients one-on-one and providing almost all the work on each topic.
What is a Boutique Law Firm?
There are many definitions of this kind of law firm. This is one of the things that the legal industry does not always agree upon. Many people will tell you that the firm's size makes it boutique or that the clientele being serviced there is why it is a boutique firm. However, some features of these law firms are usually consistent.
In most cases, this law firm style is designed around a niche clientele and a specialised focus on customer care. Big Law firms are often busy and less personal than boutique firms. A boutique law firm typically employs less than twenty attorneys as well. Boutique firms are also usually operated by small expert lawyers who focus on the law's niche areas or client bases. The main types of boutique law firms include corporate fraud, intellectual property, labour & employment, litigation, tax, technology & venture capital.
New partners are not commonly brought into these firms, and there is low turnover for employees and lawyers within the group. A boutique law firm is very hands-on and takes on each case with great attention to detail.
What is the Difference Between Boutique Law Firms and Big Law?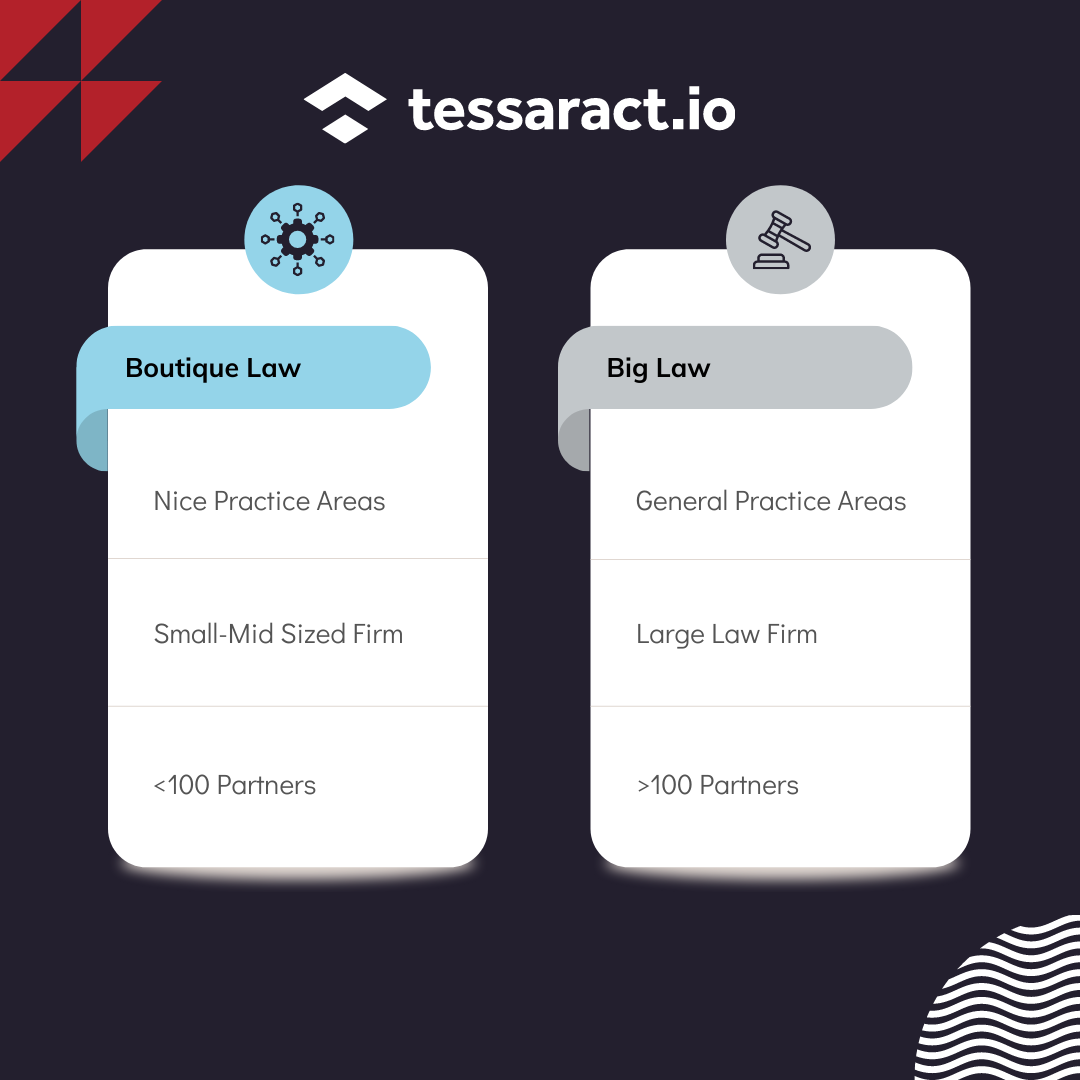 We have already touched on the topic briefly. Still, the most significant difference between Big Law and a boutique firm is that the boutique firm services a much smaller clientele and is interested in more specific niche parts of the law. Many larger firms will offer services from divorce to property contracts, car accidents, and more. A boutique firm will be more likely to focus on a single area of legal practice.
When you think about the difference between Big Law and a boutique firm, you will find that the volume of work and the attention to detail are pretty different. Boutique firms are usually much smaller, and they have more experienced people working on the cases from start to finish.
Boutique firms can focus on clients' cases, and they have a higher degree of experience with their unique kind of law. This means that each case is handled with care and that lawyers will keep tabs on the process involved in each case as needed. Clients are also more likely to speak to someone whenever they want to ask questions or inquire about their case. This can be a very nice benefit to choosing this kind of law firm for lawyers, staff, and clients.
Why Should You Run a Boutique Law Firm?
The choice to open a boutique law firm is often relatively straightforward. If you want to own a firm that works with a select group of clients and pays attention to every aspect of the cases they work on, a boutique firm is a right choice. You will be able to provide a much more personalised experience for your clients in a boutique firm than what you could offer working for Big Law. You will also be able to work on the kinds of law you enjoy most, and you will not have to struggle with a lack of personal time.
One of the other vital benefits that not everyone is aware of is that boutique firms can also offer flexible payment options. Many significant firms have set ways to handle contracts, not deviating from these parameters. A boutique firm does not have to be held back by these rules, and you might be able to make more money and service more kinds of clients this way.
A boutique law firm can offer everyone who works there the ability to handle cases with care and to have a better work and life balance. Boutique law firms are much less likely to suffer from internal strife between partners and staff, leading to a much better working experience for everyone involved in the business's daily operations.
Automate Your Boutique Law Firm
Automation can help streamline firm processes and document tracking. The more items you can automate, the more time you can free up to research cases and prepare arguments. You will also be much less likely to miss deadlines and other kinds of important dates with automated processes on your side. Reducing the size of your team means freeing yourself from the cumbersome nature of old-fashioned bookkeeping, time keeping, document management, and scheduling. A law practice management software can make so many of these processes more accessible and more seamless, allowing you might be able to cut back on the size of your staff significantly.
When you use a practice management software intelligently, your firm will feel like it is running itself. This can free up your time to focus on what you do best – practising law. Your whole team will work together more cohesively and collaboratively when automation is involved in business processes. It can be easy to think that your firm may not make the most of practice management software, but firms of any size can benefit from automated processes and support.
Tessaract enables you to improve every aspect of your boutique firm's internal processes with optimal efficiency and productivity. Today, choose the right law practice management software for your boutique firm with Tessaract. Additionally, visit our case study on how Tessaract enabled That.legal to achieve agile growth and resource efficiency,
Contact us today, and we can help you start saving time and working more efficiently than ever at your law firm.