Posted by
Ajrin
Feb 1, 2022 10:00:00 AM
Since the COVID-19 pandemic became so prevalent in our world, working from home has become somewhat the norm. While offices worldwide are trying to go back to on-site working, hybrid working is being adapted wherein employees may switch between working from home and working on-site.
All these have led to a surge in the frequency of depending on Virtual Meetings instead of on-site ones. And while it may be tempting to turn your camera off and attend the meeting in your PJs while you slurp your ramen, you might want to reconsider and follow these tips on virtual meeting etiquette to ace your virtual presence to make a killer impression on your employers and other stakeholders.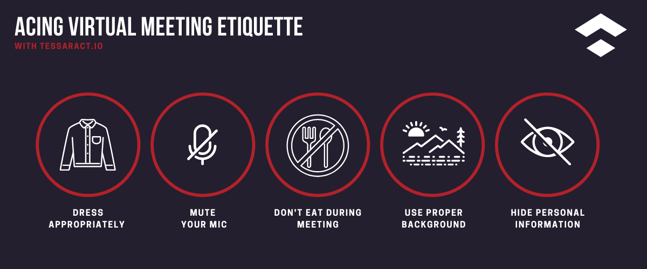 Dress Properly
While it is true that one of the perks of working from home is that you can dress casually and work from your bedroom, it may be a better option to change your attire for an important meeting. Throwing on a nice dress shirt can mean a world of a difference in how other people perceive you in the forum and whether they take you seriously or not.
Mute Your Mic
When others are talking or presenting during a meeting, and you are not required to speak, keep your mic muted. It sounds like construction noise outside your house, a blaring ceiling fan or background chitter-chatter from your end can be very distracting for the presenter and, in turn, can result in people having a wrong impression of you.
Don't Eat During the Meeting.
Resist the temptation to gorge down that burger during your meeting. It can seem very disrespectful if you're focusing more on your 5-course bedroom meal than the actual meeting. And not to mention, if you're unmuted, the chewing noises will be anything but appreciated.
Choose an Appropriate Background
Forgot to clean your room right before the meeting? No problem. Just put on a friendly and neutral digital background to hide your mess from your co-workers.
Hide Your Personal Information
Were you searching up "How to clip your toenails without a nail clipper?" How do I know that? You still had that tab open when you shared your screen for the meeting…
To avoid flashing your browsing history to your meeting participants, clean up your screen before sharing. Turn off notifications, too, so that no one reads your private messages when you're presenting something.
Conclusion
Overall, it's not very difficult to ace your virtual meeting etiquette. Just keep these few things in mind, and you'll be on your way to impressing everyone at your workplace in no time! Request Tessaract for a demo today to facilitate your virtual tasks and achieve optimal efficiency.