If you are a lawyer or a professional in the legal industry, this article might be just for you. In this article, we will explore what legal technology covers, and why it is an increasingly relevant topic that law firms need to pay attention to.
What is Legal Technology?
Legal Technology (or "Legal Tech") broadly refers to any software or technologies that help professionals streamline core processes, operations and various functions. It typically refers to software instead of traditional hardware like computers, printers, and scanners. This is done through the application of legal software systems.

A legal software system is a suite of programs that help law firms and lawyers like yourself manage your daily business operations. Most of this technology is usually designed to help you and your law firms practise law more efficiently, productively and provide security to ultimately meet the changing expectations of your clients. In other words, legal technology can help you to serve your clients better with higher transparency and accuracy, feel at ease with better security and go home on time by getting more things done.
Legal Tech Is Not An Option but A Necessity For You
Accepting and learning new technologies is no longer an option, but a necessity for law firms and lawyers in today's world. You need to keep up because other firms and lawyers are, and being deficient means losing business or going out of business altogether. Taking advantage of new legal tech products can solve or prevent many issues by streamlining processes, increasing efficiency and productivity, optimising workflow, and allowing for better client service.
Looking at data from the last 12 months with reference from our article on Legal technology trends for 2023 and beyond, the level of adoption of technology within legal practice continues to increase. In-house legal teams are supporting the increased demand, and this trend is poised to continue, with Gartner reporting that by 2025, legal departments will increase their spend on technology, threefold. Legal technology spending has already increased 1.5 times from 2.6% of in-house budgets in 2017 to 3.9% in 2020. Gartner predicts legal tech spending will increase to approximately 12% of in-house budgets by 2025, a threefold increase from 2020 levels.
3 Key Reasons Why You Need To Keep Up With Legal Tech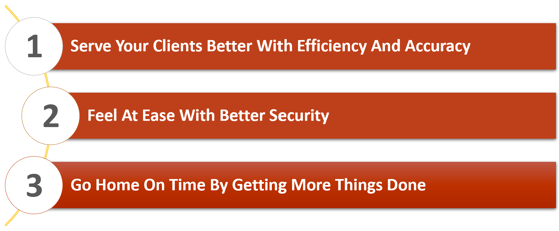 You can serve your clients better with efficiency and accuracy
Innovation is turning ideas into capital, and legal technology is one way to achieve the results. Legal tech innovation is about serving your clients in the best way possible. The right tech can greatly improve the client experience, leveraging automated processes to simplify and speed up work that, in the past, had been time and labour-intensive. Lawyers can offer faster, more accurate, and cost-effective legal services by adopting legal tech, which can lead to increased client satisfaction and loyalty.
In our article on KYC, we shared that Tessaract offers various client-onboarding automation features- Tessaract.io can automate an organisation's KYC processes, forms, and documents, with integrations to other AML Search Providers. All data and emails can also be logged for proper compliance audit trail. In leveraging such automation capabilities, you can serve your clients better with efficiency and accuracy.
Feel at ease with better security
The older your IT hardware and infrastructure, the more susceptible you are cybersecurity threats - outdated servers with incompetent protections leave your firm vulnerable to malicious attacks. It is therefore critical for law firms with ageing systems and infrastructure to modernise. Upgrading your practice management solution can significantly improve your firm's safety and security. Tessaract.io's low-code workflow automation platform was developed to be cloud-native from the get-go, and is "secure by design" as a result.Read more about cloud-native applications on our previous article.
Firms operating in Singapore can consider digital signing that is integrated with SingPass, which offers tighter authentication and controls using government-mandated identification measures to validate the signer's authenticity. This is a feature available with Tessaract.io, and you can feel at ease knowing that our software was built with the needs of growing businesses and enterprises in mind.
Get more done in the same amount of time
The value of freeing up time makes a big difference to any firm. A survey by Wolters Kluwer cited "coping with increased volume and complexity of information" and "improved productivity and efficiency" as the key drivers of legal tech adoption.
Firms can leverage workflow automation features in relation to their document and practice management systems to cut out manual intervention from well-established and often repeated work processes, from automating user and client notifications to leveraging document assembly from established case templates.
Keep Up With The Legal Tech Using Tessaract.io
Tessaract offers new and time-saving features such as workflow automation, custom forms, time tracking, digital signing, and more. Leverage the capabilities of Tessaract.io to increase your law firm's productivity, improve client experience, and accelerate growth. If you keen to find out more about how Tessaract.io can help your law firm, reach out to our team for a demo.